Main content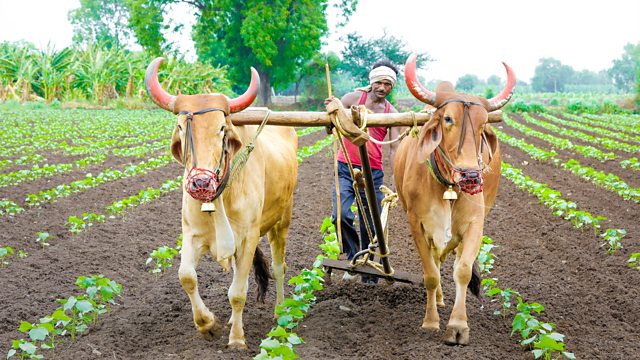 Who were the first farmers?
Today, farming provides nearly all of our food, but people started as hunter-gatherers, so how did farming begin?
Farming is a relatively recent invention for our species. For most of human history, people were hunter-gatherers. They moved around the landscape to get their food, hunting prey and gathering fruits and cereals from their environment.
But then, around 10 thousand years ago, human society shifted, and the first farmers appear in archaeological records around the world. So how did this idea start? Who planted the first seed and domesticated the wild ancestors of our cows and chickens?
That's what Listener Brian wanted to know, and so CrowdScience presenter Anand Jagatia seeks out the archaeologists, geneticists and anthropologists who can give us the answers.
Presenter: Anand Jagatia,
Producer: Rory Galloway
(Photo: A farmer working in a green cotton field with two bulls. Credit: Getty Images)
Podcast
We take your questions about life, Earth and the universe to researchers hunting for answers at the frontiers of knowledge.