Main content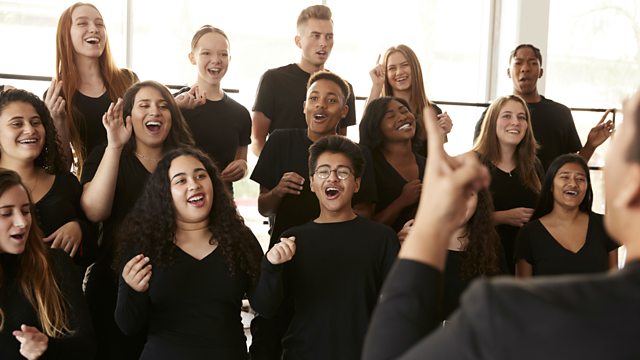 Can singing improve our health?
Could this much-loved musical pastime improve our mental and physical strength?
Singing can lift our spirits, but research suggests it could also benefit our health, improving breathing for people with lung conditions and helping us cope with dementia. Could it even have a preventative effect?
CrowdScience heads to Cheltenham Science Festival in the UK county of Gloucestershire - one of the first places to pioneer this kind of "social prescribing" - to find out. Presenter Anand Jagatia teams up with panellists Dr Daisy Fancourt, Senior Research Associate in Behavioural Science, Dr Simon Opher, family doctor and Clinical Lead for Social Prescribing, and Maggie Grady, Director of Music Therapy at charity Mindsong to learn more. They're joined on-stage by their Breathe In Sing Out and Meaningful Music volunteer singing groups to find out what this much-loved musical pastime can do for us.
Producer: Jen Whyntie
(Photo: Students singing in a choir with their teacher. Credit: Getty Images)
Podcast
We take your questions about life, Earth and the universe to researchers hunting for answers at the frontiers of knowledge.