Main content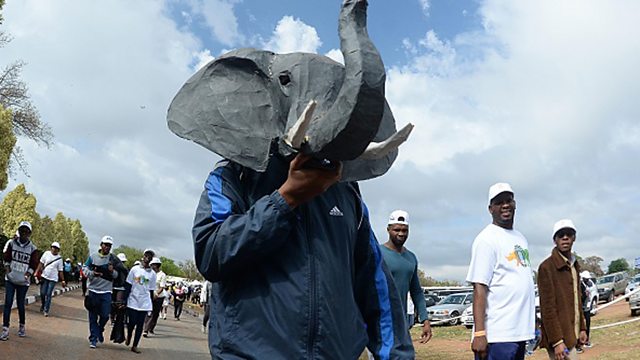 Gaborone
Hunting elephants and the legalisation of homosexuality: a vibrant debate on pressing issues facing Botswana ahead of the forthcoming elections.
Botswana is an African success story: a stable democracy with a healthy economy based on diamonds and tourism. But despite many free elections since independence in 1966 only one party has ever won power. This October that could change, as a newly united opposition is fielding a single candidate for president in the forthcoming election. Worries about jobs, inequality, waste, corruption and issues such as the country's elephant population and the decriminalisation of homosexuality give the sense that Botswana is at a turning point, and the opposition and the government are both promising change.
World Questions comes to Botswana for a vibrant debate in the heat of an election campaign. The BBC's Toyosi Ogunseye is joined by a panel of leading politicians and thinkers as well as an audience of the public in Gaborone, the country's capital.
The panel:
Dorcas Makgato MP: Minister of Transport and Communications for the Republic of Botswana
Spencer Mogapi: Deputy Editor of The Sunday Standard
Tumi Mbaakanyi: Businesswoman and former President of Women in Business Botswana
Dumelang Saleshando: Deputy President of Umbrella for Democratic Change
BBC World Questions is a series of international events created in partnership with the British Council.
(Photo: A man wears an elephant mask to raise awareness on protecting wildlife and nature, in Gaborone, Botswana. Credit: Monirul BhuiyanAFP/Getty Images)
Last on
Broadcasts