Main content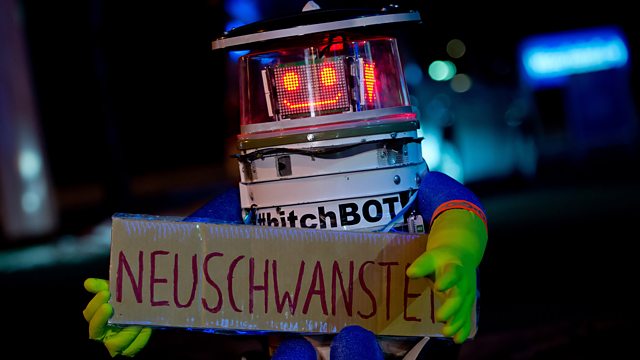 Can you murder a robot?
Robots are designed to help us, so why do humans like to hurt them?
A couple of years ago a cute little robot was sent out to hitchhike, to prove how well humans and robots could get on. It was an exercise in trust, and it went very wrong. Hitchbot was found decapitated, slumped next to some bins in Philadelphia. The robot's head has never been found. Neither has the "killer".
Robots are machines, they are tools to help humans. But we seem unable to stop anthropomorphising them, and manifesting the worst of ourselves onto these machines we make ourselves, and increasingly in our likeness. We explore robot torture, and whether there is an ethical issue with harming a machine, other than damage to property. Does it display a lack of empathy in a person?
We also explore the flipside - robots designed to do our worst - in war.
There is a rising chorus of governments wanting to ban automated weapons or robots from the battlefield and we hear from the campaign to stop killer robots which argues that killing must never be automated.
That seems obvious but does putting humans in control actually raise questions of its own? We also meet Norman—a psychopathic robot—and hear about what happens if the brains behind machines (AI) go bad, thanks to human programming.
We meet a robotics maker who specialises in entertainment robots, but has been repeatedly asked to make assassins, and he explains how worrying the human robot relationship could be. We also take a resurrected Hitchbot for lunch, and ask what the robot's story says about us all.
Presenter: Jane Wakefield
(Photo: Robot 'hitchBOT' holds a sign reading Neuschwanstein as he waits for a lift at the roadside in Munich. Credit: Sven Hoppe/ AFP)