Main content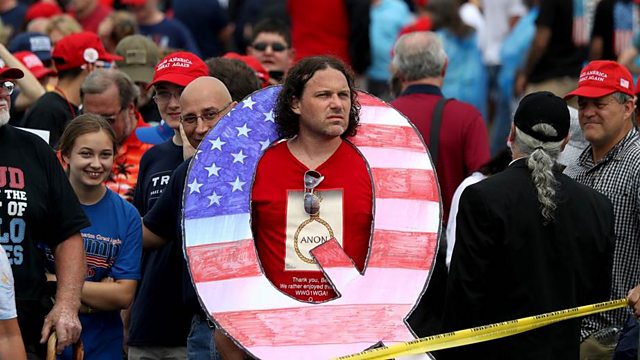 How influential is a pro-Trump conspiracy theory?
QAnon is a sprawling conspiracy theory whose followers support President Donald Trump. We find out if it is having an impact on next year's US presidential election.
What does the QAnon conspiracy theory tell us about American politics today? It's a sprawling set of allegations which has a number of branches and offshoots –but if one thing unites its believers, it's that they all support President Trump.
We meet Dylan Wheeler, an influencer with more than 370,000 followers on Twitter, as he speaks at a gathering of Trump supporters. Although the people in the crowd aren't all conspiracy theorists, some of them aren't exactly opposed to such ideas.
We hear from experts who tell us that conspiracy theories are a consistent and significant feature of American politics, and they come from the left as much as the right. What, if anything, is different about QAnon?
Presenter: Mike Wendling
(Photo Caption:: A QAnon supporter holds up a sign outside a rally for President Donald Trump / Photo Credit: Getty Images)
Broadcasts