Main content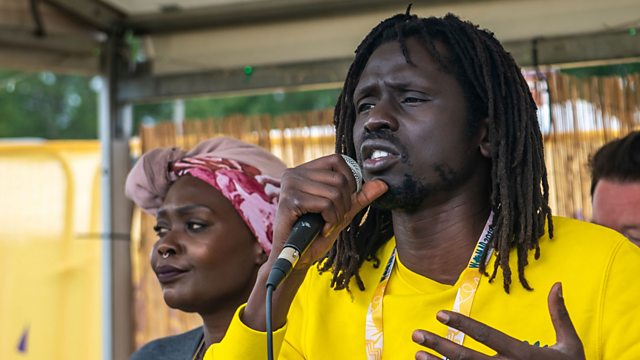 Backstage: Womad
Backstage at Womad, the UK's biggest festival of international music and dance
The Arts Hour is backstage at Womad, the UK's biggest festival of international music and dance
Nikki Bedi and Nicki Paxman are on site in the fields surrounding Charlton Park country house, to join the party and meet the musicians as they play to a crowd of 30,000 people, many of whom are camping on site for the weekend.
Rapper and activist Emmanuel Jal, performing with his sister Nyaruach, tells us how the two of them were reunited after many years of separation and explains how he uses music to share the trauma of his past as a child soldier in South Sudan
Ta Dhom Project reveal how they combine South Indian percussion with Mumbai rap and Bex Burch, from the London trio Vula Viel, describes her time living in Ghana learning to make, and play, the Gyil xylophone.
Mauro Durante traces the powerful folk music of his southern Italian band Canzoniere Grecanico Salentino back to the ancient healing rituals of tarantism and singer Gili Yalo recounts the long and perilous journey he made as a child, from Ethiopia to Israel, that made him the musician he is now.
And Buba Murgulia, founder of the male voice Iberi choir from Georgia, reveals the connection between rugby and singing.
(Photo: Emmanuel Jal and his sister Nyaruach. Credit: Gary Jones)
Broadcasts