Main content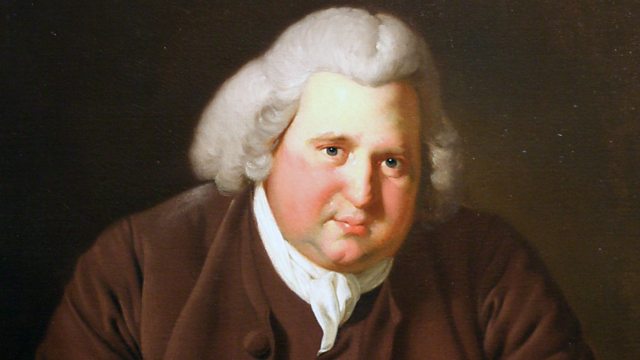 The amazing Dr Darwin
A leading physician, a popular poet, an inventor and a pioneering biologist who understood evolution: Erasmus Darwin was a true a Renaissance man.
Erasmus Darwin was a man of many talents; not only was he a successful physician, a popular poet, an ardent abolitionist and a pioneering botanist, he also worked out how organisms evolve, some 70 years before his grandson Charles's theories about this revolutionised science. He is credited with many inventions and discoveries including the steering mechanism used in modern cars, the gas laws of clouds and a document copying machine. And he knew how to live life to the full; he fathered at least 14 children and his love of food meant that his dining table had to have a chunk sawn out of it to accommodate his considerable waistline.
Joining Rajan Datar to explore the life and work of this remarkable man are Dr Patricia Fara, Emeritus Fellow of Clare College, Cambridge, and biographer of Erasmus Darwin; Dr Malcolm Dick, director of the Centre for West Midlands History at the University of Birmingham; and Maurizio Valsania, professor at the University of Turin in Italy who specialises in 18th Century intellectual history.
(Picture: Portrait of Erasmus Darwin by Joseph Wright of Derby. Credit: Universal History Archive/Universal Images Group/Getty Images)
Last on

BBC World Service
Australasia, Americas and the Caribbean, South Asia & East Asia only
Featured in...
People and principles that helped us understand how our planet - and our universe - work