Main content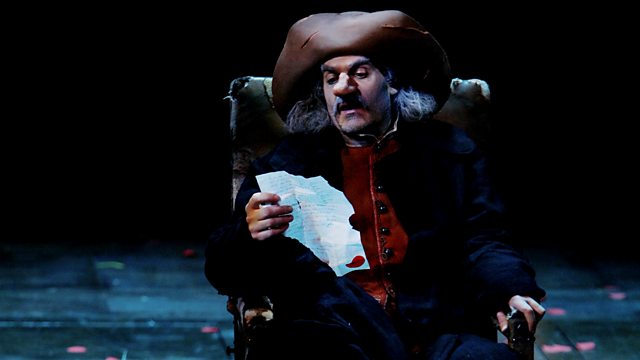 Cyrano de Bergerac: Big-nosed hero
Bridget Kendall finds out how an obscure 17th-century French philosopher was immortalised in a much-loved character with guests Clémence Caritté, Isabelle Moreau and John Rodden.
Although the name conjures up the image of a swashbuckling poet with an enormous nose, little is known about the life of the maverick 17th-century writer and philosopher Cyrano de Bergerac. Born four centuries ago, he left behind a play, love letters and a handful of strange travelogues that imagine a journey to the moon.
The sketchy details of his past were a blank canvas for the late 19th-century French playwright Edmond Rostand, who mythologised aspects of Cyrano's life for his own ends. Immortalising Cyrano on stage, Rostand created a character whose heroism and generosity have resonated with audiences since the play's premiere in 1897. Cyrano believes himself to be ugly and ridiculous on account of his large nose, and fears that in spite of his talent for romantic poetry he will never be able to win the heart of the woman he loves. Enter the good-looking but inarticulate Christian de Neuvillette, and together they devise the perfect hero whose identity is only revealed at the end of the play.
Bridget Kendall explores the intersection between the real Cyrano and his fictional counterpart with Dr Clémence Caritté, who's written extensively on Rostand's Cyrano de Bergerac; Professor Isabelle Moreau from the University of Lyon, co-editor of Seventeenth Century Fiction: Text and Transmission; and Professor John Rodden who lectures in European history at the University of Texas at Austin, USA.
(Main Image: Cyrano de Bergerac by the Comédie-Française, featuring Michel Vuillermoz as Cyrano, Paris, May, 2006. Photo credit: Raphael Gaillarde / Gamma-Rapho via Getty Images.
Last on

BBC World Service
Australasia, Americas and the Caribbean, South Asia & East Asia only
Featured in...
From Moby Dick to the Moomins, exploring the books that captured the world's imagination