Main content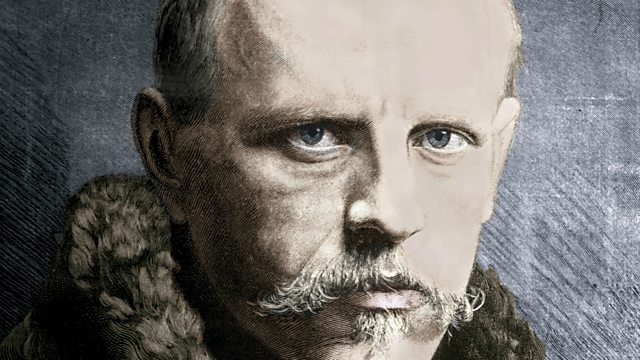 Fridtjof Nansen: Norway's great explorer
The polar adventures of a remarkable man whose humanitarian work saved thousands of lives and earned him the Nobel Peace Prize.
Mention famous polar explorers to most people and they will probably come up with the names Scott and Amundsen. But really there should be another name before these, Fridtjof Nansen, a man who can be viewed as a true pioneer of intrepid, indeed death-defying expeditions to the freezing, bleak extremities of the world. He ventured closer than anyone else before him towards the North Pole but this Norwegian national hero was so much more than a character from a boys-own adventure annual. He was a scientist, an early oceanographer, a top class skier, a bestselling author, a diplomat, a humanitarian who spearheaded the repatriation of nearly half a million starving First World War prisoners, a tireless fundraiser for famine relief, the man who gave thousands of stateless people passports and a Nobel Peace prize winner.
Rajan Datar recounts Nansen's remarkable life with the help of historians Robert Marc Friedman and Carl Emil Vogt, writer Marit Fosse and polar explorer Paul Rose.
Picture: Explorer and humanitarian Fridtjof Nansen. Credit: The Print Collector/Getty Images
Last on

BBC World Service
Australasia, Americas and the Caribbean, South Asia & East Asia only
Broadcasts
BBC World Service

News Internet

BBC World Service

East and Southern Africa & West and Central Africa only

BBC World Service

Australasia, UK DAB/Freeview, News Internet, Online & Europe and the Middle East only

BBC World Service

Online & UK DAB/Freeview only

BBC World Service

Australasia, Americas and the Caribbean, South Asia & East Asia only