Main content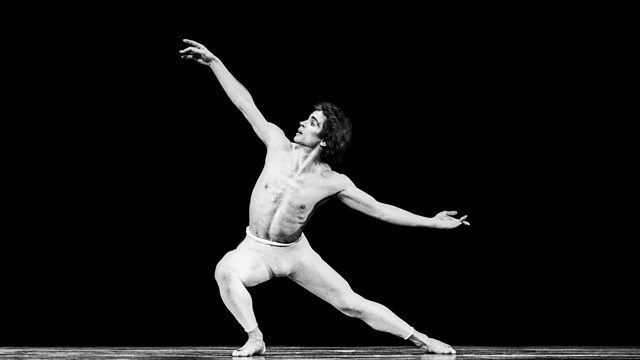 Rudolf Nureyev: Superstar Russian dancer
Bridget Kendall charts the rise and decline of one of ballet's greatest performers, with expert guests Thierry Fouquet, Julie Kavanagh and Irina Klyagin.
From the moment the seven-year-old Rudolf Nureyev saw a ballet on stage in his local theatre, he lived and breathed dance. That overwhelming desire to be on stage carried him throughout his life – from his student days in Leningrad to his defection to the West in a blaze of publicity, from theatres around the world to his final curtain in 1992 when his gaunt body was ravaged by Aids. He made good on his promise: "the main thing is dancing, and before it withers away from my body, I will keep dancing till the last moment, the last drop."
In a career spanning more than three decades, he brought new audiences to ballet, and gave new meaning to the role of male dancers. He was a pin-up, a performer whose stage presence and artistry was so mesmerising that those who saw him perform in the 1960s have never forgotten the experience. His leaps defied gravity; he gave the impression of floating through the air. But his demands for perfection could make him a difficult person to be with. His temper was as legendary as his dancing.
Bridget Kendall explores how Nureyev's commitment to transcend his childhood in grinding poverty made him one of the world's most celebrated dancers, with writer Julie Kavanagh, author of Rudolf Nureyev: The Life; writer and translator, Irina Klyagin, who looks after Harvard University's extensive theatre collection and specialises in Russian ballet; and Thierry Fouquet, vice chair of the board of trustees of the Rudolf Nureyev Foundation who worked with Nureyev during his time at the Paris opera, the home of France's leading ballet company.
(Photo: Rudolf Nureyev In 'Aureole'. Credit: Linda Vartoogian/Getty Images)
Last on

BBC World Service
Australasia, Americas and the Caribbean, South Asia & East Asia only
Featured in...
Chanel, Warhol, Tove Jansson and George Orwell: Their influence can still be felt today

Artists and works that defined film, theatre and dance