Main content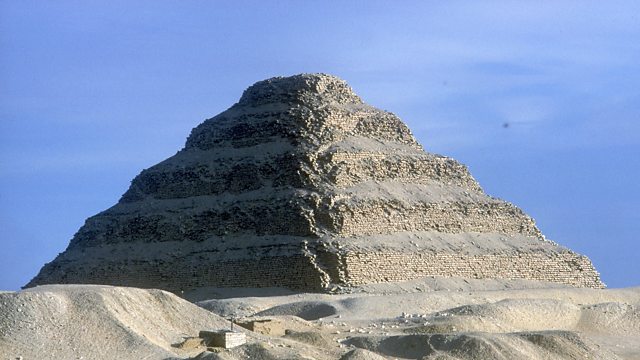 Imhotep: The Man behind the Mummy
Bridget Kendall explores the story of the Ancient Egyptian polymath, Imhotep, better known as Hollywood's The Mummy. With guests David Silverman, Salima Ikram and Aidan Dodson.
Fans of Hollywood cinema may recognise the name Imhotep from the original The Mummy film from 1932, and its various remakes. In the movie, Imhotep (played by Boris Karloff) is an Ancient Egyptian high priest who was mummified alive because he had attempted to resurrect his forbidden lover. Fast forward several thousand years, and an archaeologist brings the mummy back to life, with dangerous consequences.
The real Imhotep was a far cry from this Hollywood invention. A high priest yes, but also possibly the architect of the first monumental building fashioned entirely of stone, the Step Pyramid which dates from around 2,600 BC. Imhotep was also an adviser to one of the most important pharaohs, King Djoser, as text on a statue base found at the Step Pyramid confirms. Later generations revered Imhotep as a sage and a scribe, one of the highest honours a person could be paid in Ancient Egypt. He eventually became linked with the Greek god of medicine, Asclepius, and then worshipped as a saint.
Bridget Kendall journeys through the centuries to understand all the different titles that have attached themselves to this legendary figure, with experts Dr David P Silverman, curator in charge of the Egyptian Section of the Penn Museum and Professor of Egyptology at the University of Pennsylvania, USA; Dr Salima Ikram, Distinguished Professor of Egyptology at The American University in Cairo, Egypt, and Dr Aidan Dodson, Honorary Professor of Egyptology at the University of Bristol in the UK.
(Image: Step pyramid of King Djoser, Saqqara, Egypt
Credit: Print Collector/Contributor/Getty Images)
Last on

BBC World Service
Americas and the Caribbean, Online, Australasia, South Asia & East Asia only