Main content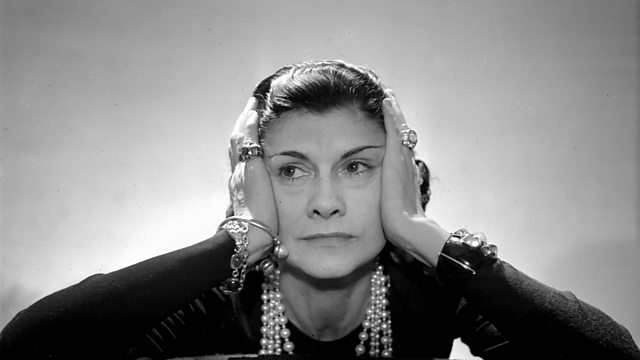 Coco Chanel: French style icon
Bridget Kendall asks what makes Coco Chanel's classic fashion designs so appealing, with guests Emilie Hammen, Madelief Hohé and Amy de la Haye.
"I didn't like my life, so I created my life," the French fashion designer, Coco Chanel declared. And what a life it was: from her humble beginnings in an orphanage, Chanel blazed a trail as a fiercely independent woman, rising to become the toast of French high society. She mixed with the artists who defined modernism in the 1920s and '30s, and created a fashion empire which today is a multi-billion dollar business that still dominates the luxury clothes and accessories market.
The suit, the little black dress and the handbag are just some of the items Chanel shaped in a career which covered much of the 20th century. Luxurious and elegant, but also practical, her designs gave women freedom to move and pursue the kinds of activities which were now opening up as society's barriers were being broken down.
But the woman herself was a web of contradictions. While she contributed to the emancipation of rich women, she limited her workers' rights. And controversially, she was involved with a Nazi officer in occupied France during World War II. She even tried to capitalise on Nazi laws to seize back her hugely profitable perfume business, having previously sold the majority shares to a Jewish family.
Joining Bridget Kendall to discuss the complex life of Coco Chanel are dress historian Amy de la Haye, author of Chanel: Couture and Industry and professor at the London College of Fashion; fashion historian Emilie Hammen from the Institut Français de la Mode in Paris; and Madelief Hohé, curator of the fashion and costume department at the Gemeentemuseum in The Hague, and the author of Femmes Fatales: Strong Women in Fashion.
Image: Coco Chanel
Credit: Roger Viollet/Getty Images
Last on

BBC World Service
Australasia, Online, Americas and the Caribbean, South Asia & East Asia only
Broadcasts
BBC World Service

News Internet

BBC World Service

except Americas and the Caribbean, East Asia & South Asia

BBC World Service

UK DAB/Freeview

BBC World Service

Australasia, Online, Americas and the Caribbean, South Asia & East Asia only
Featured in...
Chanel, Warhol, Tove Jansson and George Orwell: Their influence can still be felt today

How the world's desires were fuelled

Visions that sparked the world's imagination