Main content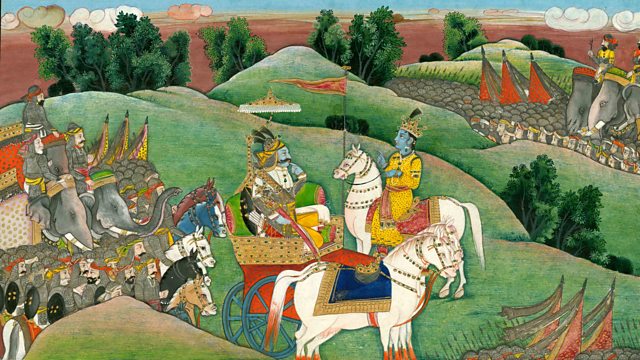 The Bhagavad Gita: A guide to spiritual wisdom
Bridget Kendall discusses the ancient Indian text which has attracted some surprising followers, with expert guests Chakravarthi Ram-Prasad, Richard Davis and Angelika Malinar.
The Bhagavad Gita didn't start life as an exclusively religious text but over the two thousand years since it was composed the verses have taken on many different layers of meaning. For millions of Hindus today, the Gita has a similar scriptural status to the Quran for Muslims or the Bible for Christians. In the 20th century, others have seen the Gita as a guide to management strategy, a tool for self-help and even a call to arms for Indian independence in the face of British colonial rule.
The story begins on a battlefield with the warrior Prince Arjuna suffering a breakdown. As warring families line up on opposing sides, Arjuna appeals to his charioteer Krishna for help in overcoming this existential crisis. In the 700 verses which follow, Krishna presents his friend with three options: the paths of action, knowledge and devotion.
Joining Bridget is Professor Chakravarthi Ram-Prasad from the University of Lancaster in the UK, Professor Angelika Malinar from the University of Zürich, Switzerland, and from the US Professor Richard Davis, the author of The Bhagavad Gita: A Biography.
Image: Indian art depicting the dialogue between Lord Krishna and Arjuna. (Fine Art Images/Heritage Images/Getty Images)
Last on

BBC World Service
Online, Australasia, Americas and the Caribbean, South Asia & East Asia only