Main content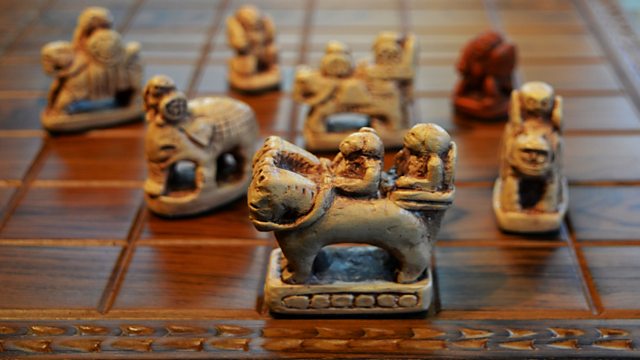 Chess: a chequered history
How the modern game of chess emerged and became a tool of Cold War propaganda. Joining Bridget Kendall are Jovanka Houska, Jean-Louis Cazaux, Rick Knowlton and Andrei Kurkov.
It's been called the 'gymnasium of the mind', both mental exercise and a way to build self-esteem. Born some 1,500 years ago, the game of chess was one of the world's first strategy board games, though little is still known about its origins. Was it first conceived to teach Indian army generals? Or devised to turn a tyrannical King into a virtuous ruler? Or was it a meditative diversion for Japanese monks? It's easy to forget that the modern game of chess is only 500 years old – and that other ancient forms of Chess, like Xiangqi in China and Shogi in Japan, are much older, still evolving and still played today.
Joining Bridget Kendall to explore the history of chess, are the chess historians Jean-Louis Cazaux and Rick Knowlton, the novelist Andrei Kurkov who's followed the dramas of Russian chess through the ages, and the Grandmaster Jovanka Houska who'll be challenging Bridget to a game of chess in the studio.
Photo: Rick Knowlton's sculpted reproductions of the first confirmed chessmen ever discovered. The original pieces were found in Afrasiab, the ancient city of Samarkand (in present-day Uzbekistan) in 1977. They are dated at approximately AD 700. (Rick Knowlton)
Last on
BBC World Service
Online, Australasia, Americas and the Caribbean, South Asia & East Asia only
Broadcasts
BBC World Service

News Internet

BBC World Service

except Americas and the Caribbean, East Asia & South Asia

BBC World Service

UK DAB/Freeview

BBC World Service

Online, Australasia, Americas and the Caribbean, South Asia & East Asia only