Main content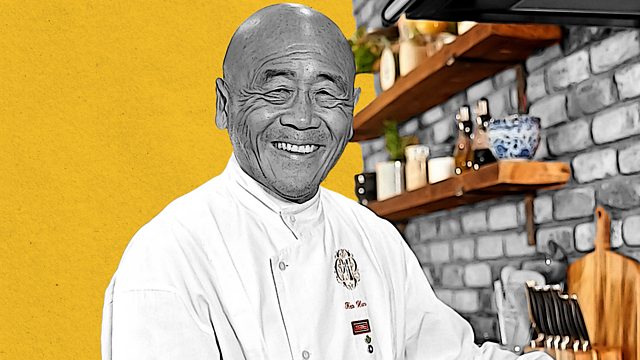 Ken Hom: My life in five dishes
From growing up in poverty to selling 8 million woks, the Chinese-American cook tells us about his life through food.
Ken Hom is a Chinese-American cook who became famous for introducing Chinese cooking to the British public through a BBC TV series in the early 1980s. Since then he has written almost 40 books, sold around eight million woks, and become regarded as an authority on Chinese cuisine.
Emily Thomas visits the 70-year-old in his Paris flat to hear about his life told through five memorable dishes. He describes his impoverished childhood in Chicago's Chinatown, from using his mother's packed lunches to barter for better treatment at school, to working in a kitchen as an 11-year-old – a job that would put him off the restaurant business for life. Ken describes the dishes only served to Americans in a 1960s Chinese restaurant, and re-enacts the nerve wracking screen test at the BBC 40 years ago, that was to change his life. Ken also explains what he thinks matters most in the food world today, why he has always kept his personal life, private, and how his early childhood experiences fed an entrepreneurial streak that would last his entire life.
(Picture: Ken Hom. Credit: Getty Images/ BBC)
Clips

Featured in...
Top chefs and food writers share their thoughts on the five dishes that mean most to them