Main content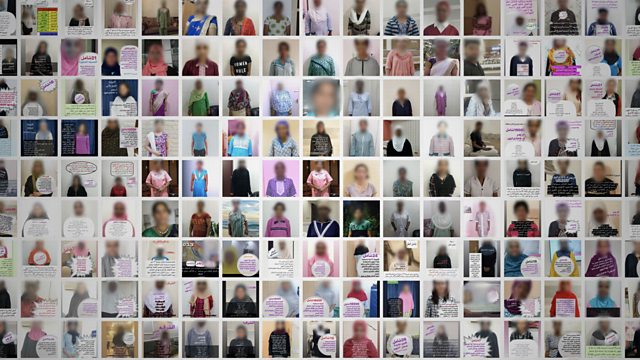 Bought and sold like used cars
BBC Arabic meets some of the domestic maids being illegally traded on commodity apps in Kuwait, including a 16 year old girl from Guinea.
BBC News Arabic's undercover investigation, Silicon Valley's Online Slave Market, exposes the mainstream app users in Kuwait breaking local and international laws on modern slavery by trading domestic staff, including a 16-year-old girl from Guinea in West Africa.
Global ghosts and ghouls
Halloween scary monsters and super creeps on the Fifth Floor, including the headless gut-trailing Krasue of Thailand and Ukraine's green-haired Mavka. With BBC Thai's Issariya Praithongyaem, BBC Ukrainian's Anastasiya Gribanova, BBC Brasil's Luis Barrucho, Moe Myint of BBC Burmese, Peter Okwoche of BBC Africa and BBC Russian's Yulia James.
Keeping the kids out of trouble
BBC Africa's Raissa Ioussouf joined a group of African diaspora women living in Paris on "mum patrol", a night-time patrol to keep their young people out of trouble.
The changing sound of Kabul
Many Afghans in Kabul are complaining about rising noise levels. One of the main causes is the shift to loudspeakers by the city's street-sellers, rather than their own voices. Zala Sahar of BBC Pashto has been trying to make herself heard.
Singing bowls
Nepal's famous singing bowls are traditionally handmade in bronze and produce mesmerising sounds, but can they also do more? BBC Nepali's Kamal Pariyar met makers and therapists who say a well-made bowl has healing powers.
(Image: Thumbnail pictures of maids for sale. Credit: BBC)