Main content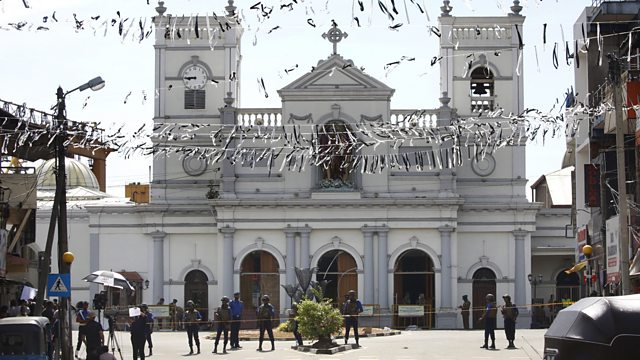 Reporting Sri Lankan bomb attacks
Reporting Sri Lanka bombings; A trip to Maya Bay; Yoga in Russian prisons, Repairing Afghan Buddhas; India Pakistan song stealing; My home town: Byblos
Ayeshea Perera is based in the BBC's Delhi office, but flew home to Sri Lanka immediately after Easter Sunday's bomb attacks. She shares her experiences of reporting from Colombo and Negombo, and her memories of civil war the bombings have triggered.
A trip to Maya Bay
Maya Bay in Thailand was made famous by the Hollywood blockbuster The Beach. But its popularity as a picture-perfect selfie-site had a devastating impact on the ecosystem, and it was closed to tourists. Thanyarat Dokson from BBC Bangkok recently got exclusive access to see how the bay is recovering.
Yoga in Russian prisons
A trial yoga programme in some Russian prisons sparked controversy when a parliamentarian raised concerns that it could encourage homosexuality. Ksenia Idrisova of BBC Monitoring tells us how yogic balance was restored.
Repairing Afghanistan's Buddhas
In 2001 the Taliban embarked on the destruction of Afghanistan's pre-Islamic heritage, including a collection of Buddha statues in Kabul Museum. Shoaib Sharifi of BBC Pashto met the team painstakingly repairing the destroyed Buddhas.
India Pakistan song stealing
Earlier this year tensions between neighbours India and Pakistan flared over the disputed territory of Kashmir. The incident resurfaced recently when an Indian MP recorded an apparent copy of a Pakistan Army song, changing a few key words. Kinjal Pandya from the Indian language services and Arif Shamim from BBC Urdu explain.
MHT: Byblos
Janay Boulos of BBC Arabic takes us to the old souk for a drink and some mezze in her home town of Byblos, Lebanon.
Image: The city prepares for the funerals of the blast victims in Colombo, Sri Lanka, April 2019
Credit: STR/European Photopress Agency