Main content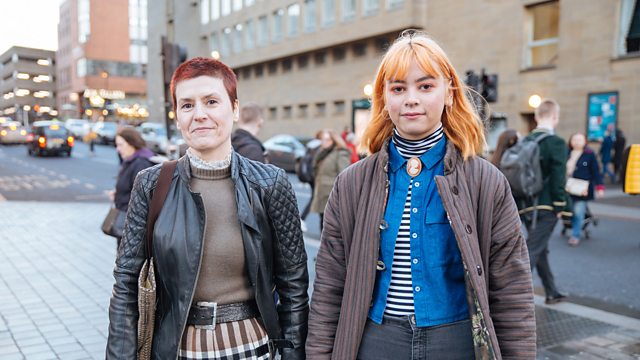 Where Are You Going? - Glasgow
One question reveals hidden truths about the lives of strangers around the world.
With Brexit fast approaching, Catherine Carr talks to people on the move in Glasgow, Cardiff, Belfast and London. Are the people she meets downcast, delighted, or disinterested? At a time of political and social upheaval, we find out what is really on their minds.
In Glasgow, the first programme in the series, we find a city with a festive hangover, still counting the cost of Christmas and facing a cold January. A bereaved mother buys sweets for someone else's son. A Croatian student on the way to celebrate a friend's 20th birthday confesses how anxious she feels about Brexit, saying 'Maybe the deal won't pass and they'll forget about it and wake up and Brexit is cancelled'. While in the marketplace Catherine meets a proud father taking his son out for his first legal drink, a new mother who describes how bringing a new life into the world has transformed her thinking, and a newly transitioned woman who wishes she'd done it "half a lifetime ago".
The stories we encounter are woven with the sounds of the city - creating an intricate and beautiful audio portrait of Glasgow and its people.
(Photo: Mother and daughter in Glasgow. Credit: Anna Cervinkova)
Last on
BBC World Service
News Internet
Broadcasts
BBC World Service

except News Internet

BBC World Service

Australasia

BBC World Service

East and Southern Africa & West and Central Africa only

BBC World Service

except East and Southern Africa & West and Central Africa

BBC World Service

except East Asia, Europe and the Middle East & South Asia

BBC World Service

News Internet