Main content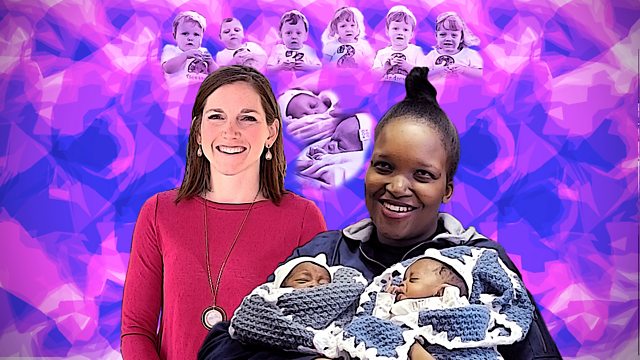 Motherhood, multiplied
Two women discuss the challenges and rewards of raising multiple babies.
Raising four or six babies at once - what's it like? Kim Chakanetsa brings together two women in very different situations who are experiencing motherhood in its most concentrated form.
In April 2012, Lauren Perkins gave birth to sextuplets in Texas, following fertility treatment. Her six children - Andrew, Benjamin, Caroline, Leah, Allison and Levi - are now seven years old. Lauren says the first year was a blur of feeding and laundry and now the family exist in a kind of controlled chaos. Her biggest challenge is balancing the needs of their daughter, Leah, who has severe disabilities, with those of the rest of the family.
Inga Mafenuka is a single mum to baby quadruplets, who were born in Cape Town, South Africa in July 2018. Inga was 22 when she became pregnant naturally, and she gave birth to the two boys, Bubele and Buchule and two girls, Bunono and Bungcwele. To support the family, Inga has taken on a part-time job in retail, and is also continuing her IT studies, which were broken off by the pregnancy, but they are struggling for space in their two-bedroom house in the township.
Sadly, following the broadcast of this programme, Inga Mafenuka's baby son, Bubele, died on August 1st 2019.
Produced by Jo Impey for the BBC World Service
L: Lauren Perkins (credit: Lisa Holloway)
R: Inga Mafenuka (credit: Armand Hough African News Agency)