Main content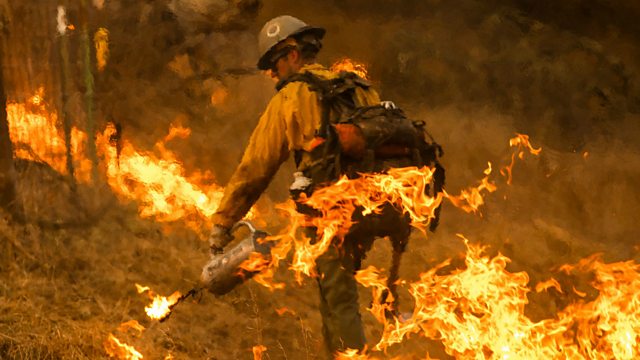 Wildfires and winds in California
How dry conditions and high winds are fuelling fires in California. Also African genomes sequenced, historic climate data in Africa and gases from Comet Borisov.
The Santa Ana in the south, and the Diablo in the north, are winds that are fuelling the terrible fires raging in California this week. They're also blamed for bringing down power lines that sometimes start the fires. Roland Pease talks to Janice Coen of the National Center for Atmospheric Research NCAR who has been developing a highly detailed model to forecast how wind, mountains, and flames interact during a wildfire.
The glaring gaps in human genetics are in Africa – much overlooked because the companies and universities sequencing DNA are mostly based in Europe, the US and other advanced economies. A ten-year attempt to fill in some of those gaps came to fruition this week, with the release of a study covering thousands of individuals from rural Uganda. Deepti Gurdasani, of Queen Mary University London, explains the data reveal both new medical stories, and the scale of past migration within Africa.
There are also gaps in the climate record from Africa. Knowing past climates could help massively in understanding the prospects for climate change in coming years on the continent. Journalist Linda Nordling has just published an article in Nature that shows that the records exist – old weather data collected since the 19th Century. It's just they're scattered, unexamined, in vaults and collections across Africa.
Adam McKay of Nasa and Alan Fitzsimmons of Queens University Belfast talk to Roland Pease about the latest observations of the interstellar interloper Comet Borisov.
(Photo: A firefighter sets a back fire along a hillside during operations to battle the Kincade fire in Healdsburg, California. Credit: Philip Pacheco/AFP/Getty Images)
Presenter: Roland Pease
Producer: Deborah Cohen
Broadcasts
BBC World Service

Australasia, Online, Americas and the Caribbean, UK DAB/Freeview & Europe and the Middle East only

BBC World Service

Online, UK DAB/Freeview, News Internet & Europe and the Middle East only

BBC World Service

East and Southern Africa, South Asia & West and Central Africa only