Main content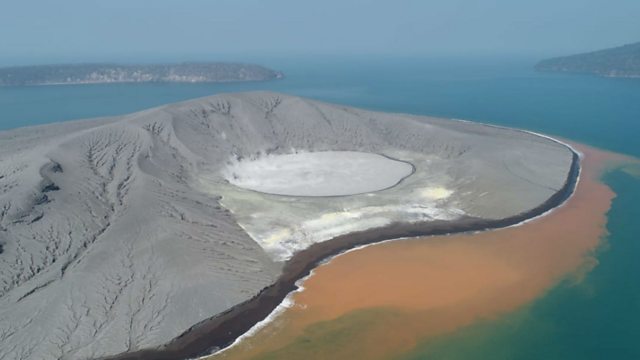 Cracking the case of the Krakatoa volcano collapse
Scientists investigate the precise events around last year's lethal eruption. Also, a dinosaur fossil trove in the USA, detecting fluorescent aliens, and a pair of robotic pants.
Scientists this week are on expedition around the volcano Anak Krakatoa, which erupted and collapsed in 2018 leading to the loss of some 400 lives on the island of Java. The scientists, including David Tappin and Michael Cassidy, are hoping that their survey of the seafloor and tsunami debris will allow them to piece together the sequence of events, and maybe find signs to look out for in the future.
Wyoming Dinosaur trove
The BBC got a secret visit to a newly discovered fossil site somewhere in the US which scientists reckon could keep them busy for many years. Jon Amos got to have a tour and even found out a tasty technique to tell a fossil from a rock.
Bioflourescent Aliens
Researchers at Cornell University's Carla Sagan Institute report their work thinking about detecting alien life on distant planets orbiting other stars. Around 75% of stars are of a type that emits far more dangerous UV than our own sun. What, they argue, would a type of life that could survive that look like to us? Well, just maybe it would act like some of our own terrestrial corals, who can protect their symbiotic algae from UV, and in doing so, emit visible light. Could such an emission be detectable, in sync with dangerous emergent UV flares around distant suns? The next generation of large telescopes maybe could…
Exopants
Jinsoo Kim and David Perry of Harvard University tell reporter Giulia Barbareschi about their new design for a soft exosuit that helps users to walk and, crucially also to run. They suggest the metabolic savings the suit could offer have numerous future applications for work and play.
(Photo: Volcano Anak Krakatoa. Credit: Drone Pilot, Muhammad Edo Marshal, ITB university in Bandung, Indonesia)
Presenter: Roland Pease
Producer: Alex Mansfield
Reporter: Giulia Barbareschi
Last on

Broadcasts
BBC World Service

except South Asia

BBC World Service

Online, UK DAB/Freeview, Europe and the Middle East & News Internet only

BBC World Service

Australasia, Americas and the Caribbean & South Asia only

BBC World Service

East and Southern Africa & East Asia only

BBC World Service

West and Central Africa

BBC World Service

Australasia

BBC World Service

South Asia