Main content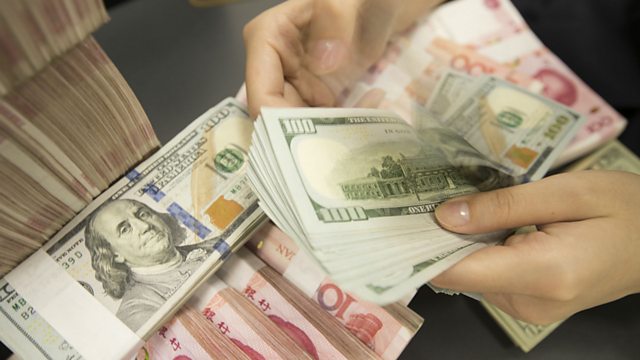 The future of money
Is it time to ditch the US dollar? And how will crypto-currencies change our world?
Every summer at a mountain resort in Wyoming, the Federal Reserve Bank of Kansas hosts a symposium of central bankers and academics to discuss the global economy. This year at Jackson Hole, the outgoing Governor of the Bank of England, Mark Carney, grabbed headlines by calling for a new global monetary system to replace the US dollar as the world's main currency reserve. A new digital currency, he said, based on a basket of currencies and provided by the public sector, could be more stable and sustainable than the dollar in today's volatile, multi-polar world. But what would such a shift mean? Is this actually an old idea, revived by our digital age? And how could the rise of the private crypto-currencies such as Facebook's Libra change the way money - and governments - work? Join Chris Morris and our panel on The Real Story this week as we ask: how is money changing, and could different systems be better for people and countries?
Contributors
Gillian Tett - chair of the editorial board and US editor-at-large of the Financial Times.
Michael Casey - author of The Truth Machine: The Blockchain and the Future of Everything
Catherine Mulligan - an academic specialising in digital technologies at Imperial College London.
Also featuring
Yanis Varoufakis - Greek economist, academic and politician. 
Perianne Boring - founder and president of the Digital Chamber of Commerce
Photo
A bank employee counts US and Chinese currency notes in Jiangsu, China.
Credit:  Xu Jinbai/Visual China Group via Getty Images
Broadcasts