Main content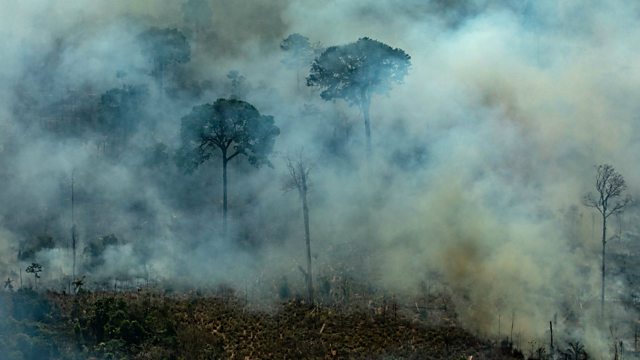 Who owns the Amazon?
Are the Amazon fires an 'international crisis'?
The Amazon rainforest is an essential part of maintaining the earth's ecosystem and weather patterns. But this year thousands of fires are ravaging there - the most intense blazes for almost a decade. Brazil's indigenous and environmental groups have raised alarm at the rate of deforestation caused by the fires, many of which are thought to have been started deliberately by farmers and loggers. The G7 group of industrial nations have offered tens of millions of dollars to countries in the region to fight the fires. President Jair Bolsonaro of Brazil, after initially blaming the environmental groups of overreacting, has deployed soldiers to help fight the blaze. But he has shown little enthusiasm towards the international offer of help, and said that the Amazon was being treated as a colony or no-man's land by countries like France. So what's the best way to decide the future of the Amazon forests? Should they be treated as a world treasure with a global consensus over its preservation? Or, should the Amazon countries have sovereignty over the forests and their natural wealth and have the final say. And what about the rights of the indigenous groups and farmers? Join Paul Henley and a panel of expert guests as they discuss the future of the Amazon.
Last on
BBC World Service
except Americas and the Caribbean & Australasia
Contributors
Daniel Nepstad - Earth Innovation Institute
Monica De Bolle - Johns Hopkins University
Maria Fernanda Gebara - Anthropologist and researcher
Also featuring
Ricardo Salles - Brazil's Environment Minister
Johan Eliasch - CEO of Head
Celia Xacriaba - Articulation of Brazil's Indigenous Peoples
Nathalia Passarinho - BBC reporter
Camilla Mota - BBC reporter
Picture
Aerial picture released by Greenpeace showing smoke billowing from the Jamanxim National Forest; Credit: Victor MORIYAMA / GREENPEACE / AFP
Broadcasts
BBC World Service

Australasia & Americas and the Caribbean only

BBC World Service

except Americas and the Caribbean & Australasia