Main content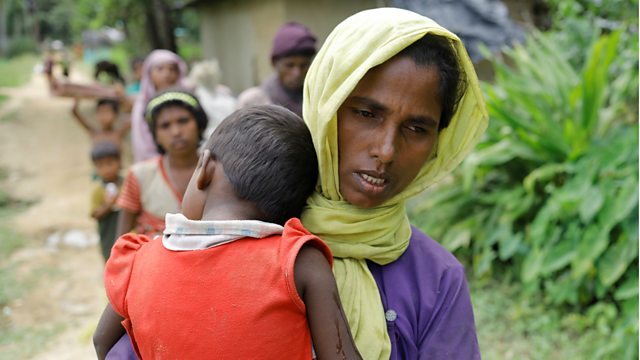 What does the future hold for the Rohingya?
What's preventing the Rohingya from returning to Myanmar?
One year ago this week, the government of Myanmar signed an understanding with the United Nations that would pave the way for hundreds of thousands of Rohingya refugees to return home from camps in southern Bangladesh. But the UN says, no family has volunteered to return. Ever since the mass exodus of the Rohingya began in August 2017, the Burmese government and the military have received universal condemnation for their failure to stop the violence. The government, led by the Nobel Laureate Aung Saan Suu Kyi, says that the Rohingya are illegal immigrants from Bangladesh and have been involved in attacks against the Burmese military. But in recent months the government has been cooperating with aid agencies to encourage the refugees to return. Does that indicate a change of heart? And if so, should the West reward Myanmar by ending its diplomatic isolation? And what does this crisis say about Myanmar's democratic transition? Join Ritula Shah and guests as they explore what's holding back the return of Rohingya to Myanmar.
Last on

Contributors
Laetitia van den Assum - former Dutch ambassador to Myanmar
Kyaw Win - Executive Director, Burma Human Rights Network
Ye Htut - former presidential spokesman and minister of information of Myanmar
Also featuring:
Poppy McPherson - Reuters journalist in Myanmar
Shahriar Alam - State Minister of Foreign Affairs in Bangladesh
Thein Tun Oo - Theninga Institute, a defence strategy institute in Myanmar
Nina Tavakoli - international lawyer
Picture
Rohingya refugees, who crossed the border from Myanmar on their way to a refugee near Cox's Bazar, Bangladesh. Credit: Reuters / Zohra Bensemra.
Broadcasts