Main content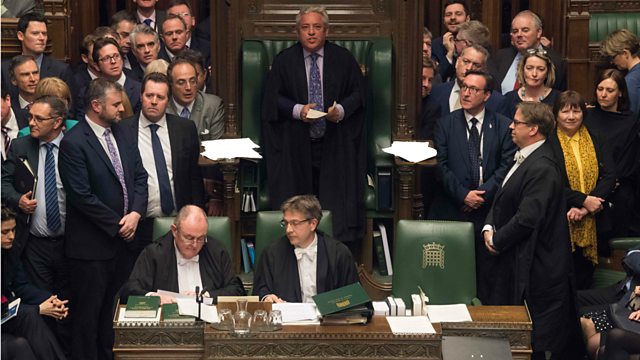 Has Brexit broken UK politics?
Is the crisis over Brexit evidence of flaws in the UK political system, or are politicians to blame?
Has what's happened since the Brexit referendum revealed serious problems with the way the UK is governed? Was the big mistake to have a referendum on such a complex issue in the first place, challenging the sovereignty of parliament and our representative system? Are UK politicians ignorant of the art of compromise, and if so, would proportional representation change the political culture? Do there need to be reforms, even a written constitution? Or is the problem not the system, but the failures of a few key people to understand the rules?
Paul Henley is joined by a panel to discuss the UK's constitutional crisis.
Picture: Speaker of the House of Commons John Bercow during a debate on the second reading of the European Union Withdrawal (No. 5) Bill, April 3, 2019. Credit: Mark Duffy/AFP/Getty Images
Contributors
Robert Hazell - Professor of Government and the Constitution at UCL, founder of The Constitution Unit
Lisa Mckenzie - Lecturer in Sociological Practice at Middlesex University in London
Katrin Pribyl - UK correspondent for German and Austrian newspapers 
Sir Stephen Laws - former First Parliamentary Counsel, Senior Research Fellow at Policy Exchange 
Also featuring
Ruth Fox - Director and Head of Research at The Hansard Society

Broadcasts