Main content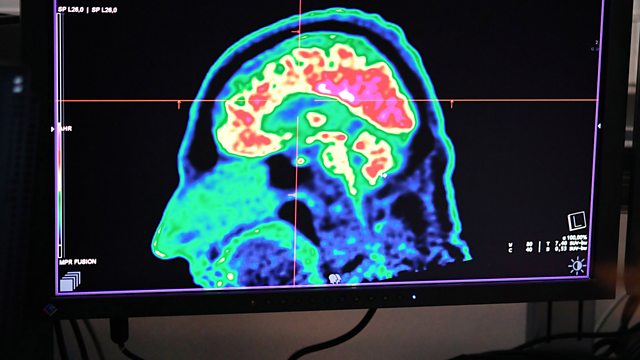 A new unique discovery about Parkinson's
First evidence of a central role for the brain chemical serotonin; Are organs still being harvested from prisoners in China?; Why eight hours work is enough to boost mental health
It is difficult to study the earliest stages of Parkinson's disease because people are not aware they have it, but there is one very special group of people who might hold the key. They live in villages of the northern Peloponnese in Greece and near Naples in Italy, and have a very rare genetic mutation which means that they will almost certainly develop the disease.
For years professor of neurology Marios Politis, who is also director of the Neurodegeneration Imaging Group at King's College London, had wanted to study this tiny group or people. Many of them had never been abroad before, so persuading them and organising a trip to London for them was not an easy task. But in the end 14 of them made the journey, and thanks to their generosity, Professor Politis' team were able to make an extraordinary discovery.
For decades dopamine has been considered to be the main brain chemical affected when someone has Parkinson's disease. The team's new research challenges this view of Parkinson's and backed up what they had suspected for a while; that the brain chemical serotonin is heavily implicated in the early stages of the disease. The work has just been published in the journal Lancet Neurology.
The Chinese authorities say the practice of taking organs from executed prisoners without their consent came to an end four years ago. But a former war crimes prosecutor has concluded that prisoners of conscience in China are still having organs removed for transplants; despite official denials from China. The allegations have been examined in detail by a tribunal set up by the charity End Transplant Abuse in China, or ETAC. Over the past two years Matthew Hill, the health correspondent for BBC in the South West of England, has been examining these allegations and has this exclusive report for Health Check.
Very long hours at work can put you at risk of burnout, but unemployment is not good for your mental health either. But how much do you really need to work to start seeing the benefits of having a job? The answer is rather less than you might think. Daiga Kamerade-Hanta, senior lecturer in sociology and criminology at the University of Salford, studied data from more than 70,000 people in the UK, and the results, which have just been published in the journal Social Science and Medicine, were quite unexpected.
(Photo: A picture of a human brain taken by a positron emission tomography scanner, also called PET scan. Credit: Getty Images)
Health Check was presented by Claudia Hammond with comments from Sarah Boseley.
Producer: Helena Selby
Last on
Broadcasts
BBC World Service

except South Asia

BBC World Service

Online, UK DAB/Freeview, News Internet & Europe and the Middle East only

BBC World Service

Australasia, Americas and the Caribbean & South Asia only

BBC World Service

East and Southern Africa & East Asia only

BBC World Service

West and Central Africa

BBC World Service

Australasia

BBC World Service

South Asia