Main content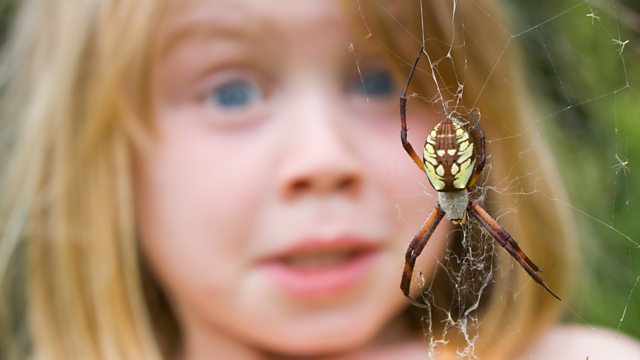 A new treatment for arachnophobia
Reducing people's fear of spiders using their heartbeat; How temperature can affect men and women's cognitive performance; Can a pregnancy hormone help relieve frozen shoulder?
Claudia visits the University of Sussex to undergo a novel treatment for her spider phobia. She meets Professor Sarah Garfinkel, from Sussex University in the UK, who has trialled a new technique which involves tuning in to the beat of a heart and finding a quicker way to dampen down and reduce arachnophobia. Does this new technique cure Claudia of her long term hatred of spiders? And does it allow her to get closer to Terry the tarantula?
Have you ever worked in a big open plan office where there are daily thermostat wars? It is often a problem in air conditioned offices, with some people preferring a cold ambient temperature and others feeling so cold they have to bring in extra items of clothing to wear. Women generally prefer higher indoor temperatures than men, which is well supported by survey evidence, but could it have an impact on cognitive performance? New research from the WZB Berlin Social Science Centre, looking at the differences in gender for the first time, suggests this is the case. Dr Agne Kajackaite is lead author of the study, which has recently been published in the journal PLOS One.
When women are pregnant they release more of a hormone called relaxin. This hormone peaks in the first and third trimester; helping an embryo successfully implant in the uterus, and also helping to relax the ligaments in the pelvis to aid childbirth. An orthopaedic surgeon in the US noticed that when his patients had stiff, frozen elbow, they eased during and after pregnancy and he wondered whether this was due to their increased levels of relaxin.
A team then conducted a study in rats to see whether injections of relaxin could help with frozen shoulder, a condition where connective tissues around the joint become thickened and stiff. It can cause a lot of pain and make it very hard to move. Mark Grinstaff, Professor of Biomedical Engineering, Chemistry and Medicine at Boston University in the US, tells Claudia that the injections seemed to work in rats, and that the use of relaxin could be a very promising treatment for other musculoskeletal diseases. The results have just been published in the journal PNAS.
(Photo caption: Young child surprised by a wasp spider – credit: Getty Images)
Health Check was presented by Claudia Hammond with comments from BBC Health and Science correspondent, James Gallagher.
Producer: Helena Selby
Last on
Broadcasts
BBC World Service

except South Asia

BBC World Service

Online, UK DAB/Freeview, News Internet & Europe and the Middle East only

BBC World Service

Australasia, Americas and the Caribbean & South Asia only

BBC World Service

East and Southern Africa & East Asia only

BBC World Service

West and Central Africa

BBC World Service

Australasia

BBC World Service

South Asia