Main content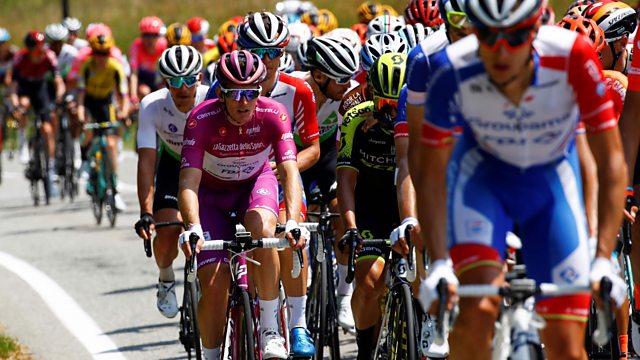 Defining the limits of human endurance
Mapping the metabolic ceiling of long-term endurance events; A new DIY smear test that women can do in their own home; The worrying low levels of bone density in middle aged men
The Tour de France starts next month and athletes competing will be undertaking an extraordinary feat of human endurance, spending three weeks battling up mountains and cycling more than 3000km. But despite benefitting from lighter bikes and advances in nutritional science, the times they achieve have not changed that much in the last 35 years. And new research has confirmed that humans are indeed close to reaching their physiological limits of endurance.
Herman Pontzer, Associate Professor of Evolutionary Anthropology and Global Health, and his team at Duke University have been studying people doing all sorts of extreme endurance events; including a race from one coast of the US to the other where competitors run a marathon a day, six days a week for almost five months. They reveal a clear metabolic ceiling to human endurance, suggesting that the maximum effort that humans can sustain over days, weeks, and months is strongly tied to our ability to consume calories. The results have just been published in the journal Science Advances.
In the UK there is a national cervical cancer screening programme which invites women between the ages of 25 to 64 for tests every three to five years. The test is commonly known as a Pap smear test and involves a nurse inserting a speculum into the vagina to take a cell sample from the cervix. Women often find the test uncomfortable and attendance rates at cervical screening have reached a 21-year low in the UK, so researchers are now looking towards a new method - self-testing - which is already part of the national screening programme in the Netherlands and Australia. And it is about to be introduced in other countries as well, as Hannah Fisher reports from London.
As children get older, their bones become denser and stronger and peak maximum bone density occurs when adults are in their 30s. By the time people reach old age, women in particular are at risk of osteoporosis, where bones become so weak that they can fracture. But new research on the prevalence of osteopenia, a precursor to osteoporosis, has surprised researchers, who have found that men between the ages of 35 and 50 are more at risk than women. Allison Ford-Wade, Professor of Health, Exercise Science and Recreation Management at the University of Mississippi, is lead author of the study, which has recently been published in The Journal of the American Osteopathic Association.
(Photo caption: Tour of Italy cycle race – credit: Luk Benies/AFP/Getty Images)
Health Check was presented by Claudia Hammond with comments from family doctor Ann Robinson.
Producer: Helena Selby
Last on
Broadcasts
BBC World Service

except South Asia

BBC World Service

Online, News Internet, Europe and the Middle East & UK DAB/Freeview only

BBC World Service

Australasia, Americas and the Caribbean & South Asia only

BBC World Service

East and Southern Africa & East Asia only

BBC World Service

West and Central Africa

BBC World Service

Australasia

BBC World Service

South Asia