Main content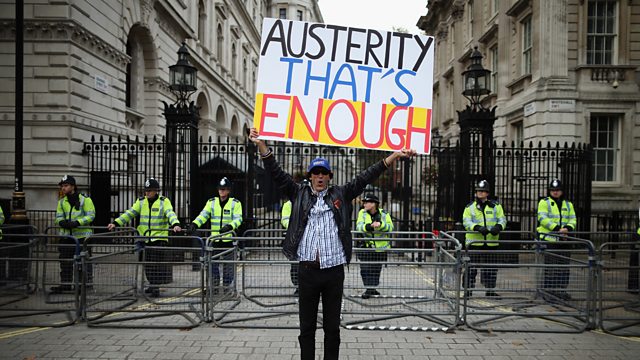 What happened to austerity?
Do promises of increased government spending in the UK mean the end of benefits cuts?
As the UK approaches a general election, both major parties have been promising billions of extra pounds to go into hospitals, social care and other public benefits. All this spells an apparent end to ten years of a policy of limited government spending, also known as austerity. The BBC's Andy Verity explains austerity and what it was meant to do. But why has it ended now? Economists Vicky Pryce and Ryan Bourne debate the relative merit of austerity, whether it succeeded, or indeed whether it was a good idea to begin with. And if indeed the UK is returning to an age of more spending, Alberto Gallo of Algebris Investments warns those funds ought to be spent wisely.
(Picture: A man holds up an anti-austerity banner outside Number 10 Downing Street on October 20, 2012 in London, England. Picture credit: Dan Kitwood/Getty Images)
How the 2008 crash shaped our world