Main content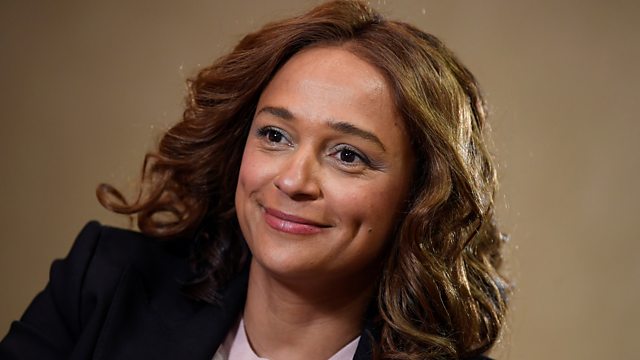 Isabel's billions - or Angola's?
Isabel dos Santos rejects any accusations of wrongdoing - but how was her fortune made? Also: on a migrant rescue boat off Libya, Cambodia's stifled dissent and rats in Shanghai
Isabel dos Santos is Africa's richest woman - and claims to be a self-made billionairess. But her background as the daughter of the former longterm President and as head of Angola's national oil company have raised questions about the real origins of her fortune. Andrew Harding recently met her in London and found a poised, confident businesswoman who strongly denies any and all accusations of financial sharp practice.
Pascale Harter introduces this and other stories from BBC correspondents, journalists and writers from around the world.
The number of boats carrying migrants across the Mediterranean Sea to the shores of EU countries has fallen dramatically - but there are still deaths and immensely dangerous journeys taking place in the waters just off Libya. Sally Hayden spent time on a rescue boat looking out for the stranded, lost or drowning recently and found a change among its passengers: many are now Libyan citizens themselves, who are trying to escape militia fighting and chaos in Libya's cities.
In Cambodia, there are fewer and fewer people willing to speak out against the leadership of Hun Sen, who's been the country's Prime Minister for over 35 years. Whether they're young people writing screeds on social media, or established opposition politicians, his critics have been singled out for legal action and in many cases for physical reprisals. Charles Dunst reflects on the mood in Phnom Penh as Hun Sen's opponent Kem Sokha is put on trial for treason.
And it's the Year of the Rat in China - although millions are having to stay at home rather than celebrate as cities are put on lockdown following the coronavirus outbreak. As Yvonne Murray knows from bitter personal experience, in the picturesque but antique "lane houses" of Shanghai, rats are still an everyday sight - and no matter what the Chinese Zodiac might say, her encounters with them were not friendly.
(Image: Isabel Dos Santos. Credit: Reuters/Toby Melville)
Last on
BBC World Service
News Internet
Broadcasts
BBC World Service

News Internet