Main content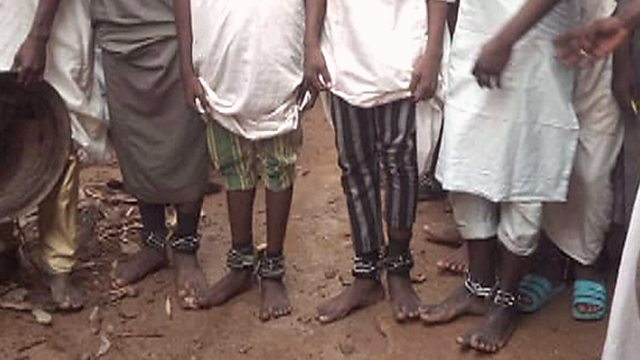 Nigeria's hellish "reform schools"
How do 'rehab and detention centres' in Northern Nigeria treat their inmates? Plus: China and the NBA fall out, the roots of Chile's protests and tales from a Latvian bookshop
After news of the release of hundreds of children and youths who'd been chained up inside so-called 'torture houses' in Northern Nigeria, the horrific details of what happened inside. Mayeni Jones was part of a BBC team trying to investigate what had gone so wrong in Katsina and Kaduna states - and how the abuse could have gone on for so long, unchallenged by neighbours, concerned families or local authorities. But she found some local officials less than energetic in the search for the truth.
Pascale Harter introduces this and other stories from reporters, writers and correspondents around the world.
Not many outsiders realise just how big American basketball is in China - it's the nation's most popular team sport and there are hoops, courts and NBA merchandise to be found almost everywhere. In Shanghai, regular fan Robin Brant felt the effects of a recent falling-out between the NBA and the Chinese state - over a tweet which seemed to support demonstrators in Hong Kong. The ructions led to games being dropped by the Chinese state broadcaster and a distinct chill in usually cosy corporate relations. What's the next play?
The streets of Santiago are once more full of uniformed men, young protesters and the smell of teargas - as well as the roses and jasmine of spring. Demonstrations over a proposed Metro fare hike have grown into a far wider and more violent show of resistance. Jane Chambers describes what it's been like to live through such turbulent times in the Chilean capital, what's driving the protesters, and onlookers' reactions.
And Steve Rosenberg has some extraordinary Soviet-era tales from a bookshop in Riga, Latvia - which thirty years ago was still part of the USSR. There are stories of Andropov's anti-alcohol screed (most popular with local rats), the censorship of Stalin himself, and a woman who found her own way home from a labour camp, only to live in hiding for more than a decade. After a gruelling twentieth century, the country has mixed memories of its time under Russian dominance, as well as some apprehensions about the future.
Photo: some of the children freed from a 'torture house' - a privately-operated rehab and detention centre - in northern Nigeria earlier this month (c) BBC