Main content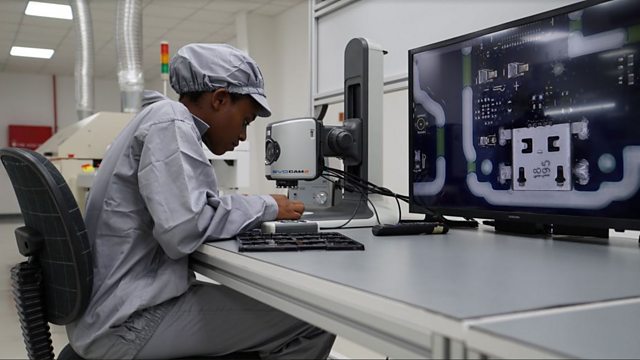 First all African smartphone factory
Africa's first smartphone factory has officially opened in Rwanda. Also a new super fast robotic tuna; technology help for people with dementia, and Ushahidi visits Hacktoberfest.
The first African smartphone factory, where phones are made from scratch, opened this week in Rwanda. The smartphones are designed for the African market, so they are being made as affordable as possible, while being accessible and secure.
Tunabot
Professor Hilary Bart-Smith at the University of Virginia, USA went back to basics to develop a fast swimming robotic tuna - the tunabot. They took detailed anatomical data from the Yellow-finned tuna and Atlantic mackerel and 3D printed the fast tunabot. The tunabot swims faster than existing tunabots by increasing the frequency with which its tail beats.
Tech to help deal with dementia
An estimated 130 million of us could have dementia by 2050, but technology could help people live with the condition. Videos that pop up on your phone to help you perform everyday tasks like boiling the kettle or QR codes on your clothes that help others identify you and contact your family if you get lost are just some of the advances that Jason Hosken reports on.
Ushahidi
Ushahidi is Swahili for witness and it's also the name of an open source software. It was originally created ten years ago to report reprisals and violence around elections. Since then it's widened out into all kinds of crisis mapping – everything from monitoring natural disasters to illegal deforestation. Angela Odour Lungati is the recently appointed Executive Director at Ushahidi.
Producer: Ania Lichtarowicz
(Photo: MaraPhone factory. Credit: MaraPhone)
Last on
BBC World Service
News Internet
Broadcasts
BBC World Service

except South Asia

BBC World Service

Online, UK DAB/Freeview, News Internet & Europe and the Middle East only

BBC World Service

Australasia, Americas and the Caribbean & South Asia only

BBC World Service

East and Southern Africa & East Asia only

BBC World Service

West and Central Africa

BBC World Service

Australasia

BBC World Service

South Asia

BBC World Service

News Internet