Main content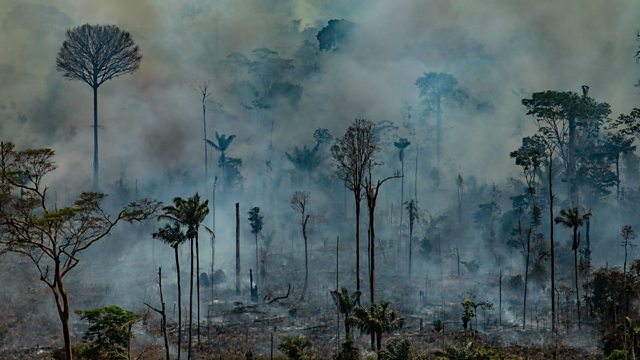 Brazilian fire monitoring in real time
Brazilian fires in real time monitored from space. Also Digital Planet visits the Rwandan tech scene and explores the possibility of printing a 3D moon base.
Brazilian fires in real time monitored from space
The Head of Remote Sensing at the National Institute of Space Research Brazil Dr. Luiz Aragao joins us on the programme. He explains how optical and thermal satellite images are delivering real time data about the Amazon rainforest fires. This means he and his team can calculate not only what is one fire but how much biodiversity has been lost and carbon released into the atmosphere. They are also analysing date from the ISS and the NASA GEDI mission and are able to recreate 3D images of the surface of the Earth before and after the fires.
The Rwandan tech scene
Gareth Mitchell visits a tech start-up hub in Kigali. He meets developers from Awesomity Lab who are currently creating e-government websites as well as apps and websites for major international companies. The company was created by a group of young IT specialists and looks just like any other start-up - creative spaces, high tables with designer chairs, blackboards covered with ambitious and 'out there' ideas. Just a few doors down Code of Africa is another tech company that is recruiting young coders and IT engineers - but not for Rwandan companies - Code of Africa is outsourcing their skills to businesses in Europe.
3D printing a moon base
50 years after man first landed on the moon, the race to return seems to be hotting up. India, Russia, USA, China and Europe all have big plans – including setting up a moon base. Reporter Jack Meegan has been to the European Space Agency in the Netherlands to find out if it would be possible to 3D print it.
(Photo: Amazon fires Brazil. Credit: Victor Moriyama/Greenpeace/AFP))
Producer: Ania Lichtarowicz
Last on
BBC World Service
News Internet
Broadcasts
BBC World Service

except South Asia

BBC World Service

UK DAB/Freeview, News Internet, Online & Europe and the Middle East only

BBC World Service

Australasia, Americas and the Caribbean & South Asia only

BBC World Service

East and Southern Africa & East Asia only

BBC World Service

West and Central Africa

BBC World Service

Australasia

BBC World Service

South Asia

BBC World Service

News Internet