Main content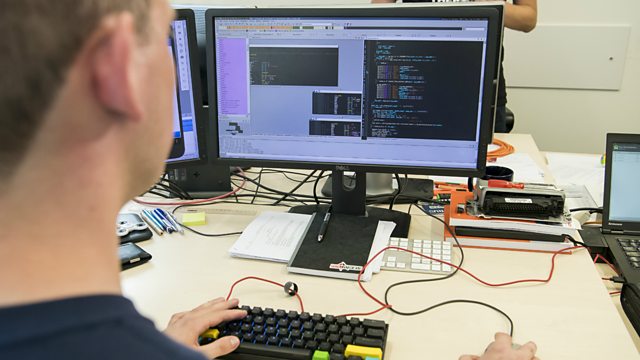 Chinese surveillance app analysed by researchers
An app which travellers to China from Kyrgyzstan are forced to install has been hacked and analysed by researchers. Plus a new exhibit that lets you see,hear and touch sound.
Travellers to China through Kyrgyzstan are being forced to install a surveillance app on their phones. Professor Thorsten Holt is on the programme to explain, with the help of investigative journalists, how he has hacked into and analysed this surveillance app. He says the app compiles a report on your phone contacts, text messages and even your social media accounts, as well as searching for over 73,000 specific files.
Atmospheric Memory
A breath-taking new art environment where you can see, hear and even touch sound, has opened in Manchester. The exhibit is inspired by Charles Babbage, a pioneer of computing technology from 180 years ago. He once proposed that if all spoken words remain recorded in the air, a powerful computer could potentially 'rewind' the movement of all air molecules. So how has the ground-breaking ideas of Charles Babbage influenced art and technology today?.
Robotic Endoscopy
Endoscopies are medical procedures that involve threading a camera through the body to see inside. Anyone who has had one will know how uncomfortable they can be. But, they are also challenging for the doctor - taking on average 100 to 250 procedures to be able to perform well. Reporter Madeleine Finlay met Dr Joe Norton, who is part of an international team developing an intelligent robotic system that could make it a lot less painful for both the patient and clinician.
Game Designing: Mentoring the Next Generation
Mathew Applegate works with over 300 young people in Suffolk on game design, and has just won the BAFTA Young Game Designers Mentor Award. Having been a hacker and spent time working for the government, Mathew then set up his Creative Computing Club in 2012, which delivers courses on game design, robotics, AI, VR and much more. He spoke to us on why he believes game design is so beneficial for the young people of Suffolk.
(Photo caption: "Analysing the App's binary software code" credit: © Mareen Meyer )
Producer: Ania Lichtarowicz
Producer: Ania Lichtarowicz
Last on

BBC World Service
News Internet & Online only
Broadcasts
BBC World Service

except South Asia

BBC World Service

Online, UK DAB/Freeview, News Internet & Europe and the Middle East only

BBC World Service

Australasia, Americas and the Caribbean & South Asia only

BBC World Service

East and Southern Africa & East Asia only

BBC World Service

West and Central Africa

BBC World Service

Australasia

BBC World Service

South Asia

BBC World Service

News Internet & Online only