Main content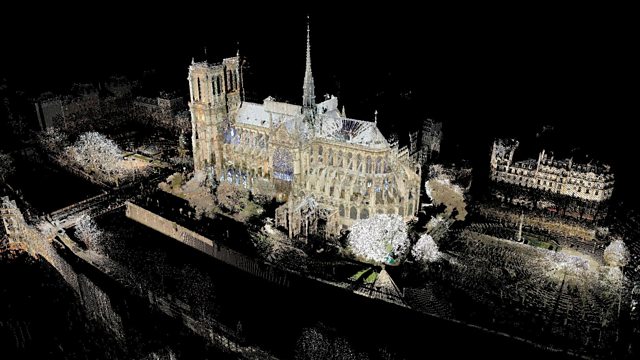 Can tech help rebuild Notre-Dame?
Can laser scanned 3D models help rebuild Notre-Dame? Also making tech work without touching it; IT pioneer Dame Steve Shirley on her career and making the world wide web feminist.
Can tech help rebuild Notre-Dame?
Professor Paul Chapman discusses how Glasgow School of Art has used laser scanned 3D models to try to rebuild their historic Mackintosh building after two damaging fires. Will this technology prove to be vital in the redesign and rebuild of Notre-Dame?
Gesture Computing Technology
Presenter Gareth Mitchell and studio expert Ghislaine Boddington talk to Per Nohlert from Noenode at the IEEE fifth World Forum on IoT in Limerick, Republic of Ireland. They find out about the latest gesture technology in gaming and medicine, like feeling the air respond to the user's movements controlling hardware.
Dame Steve Shirley
The early IT female pioneer Dame Steve Shirley tells the programme about her IT career, what she thinks of the tech scene now and why she has donated millions of her fortune to charity.
Should the World Wide Web become feminist?
Thursday 25 April marks the ITU Girls in ICT Day. Nora Lindstrom from Plan International - the global child rights organisation - explains why they believe that the World Wide Web must become feminist.
(Photo: Laser scan of Notre-Dame de Paris. Credit: Andrew Tallon/Vassar College/AFP)
Producer: Ania Lichtarowicz