Main content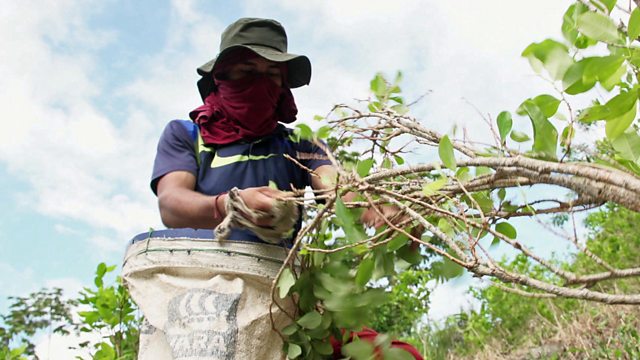 Colombia's new cocaine war
Michael Buchanan gets rare access to Colombia's cocaine producers and smugglers.
Colombia produced a record 1.5 million kilograms of cocaine last year - about 70% of the world's supply. In the regions where coca is grown, gangs fight for control of territory and smuggling routes, killing anyone who stands in their way. These are some of the most dangerous places in South America.
A peace deal signed in 2016 with the FARC rebel group was meant to reduce coca growing by offering farmers alternatives. But instead, cocaine production has rocketed, flooding markets in the US and Europe.
In this Assignment, Michael Buchanan investigates what's behind Colombia's booming cocaine trade. He gains rare access to smugglers and producers, as well as meeting the indigenous people who are standing up to the traffickers, and often paying with their lives.
Producers: Josephine Casserly and Almudena Garcia Parrado
Editor: Bridget Harney
(Image: Farmer picking coca leaves. Credit: BBC)