Main content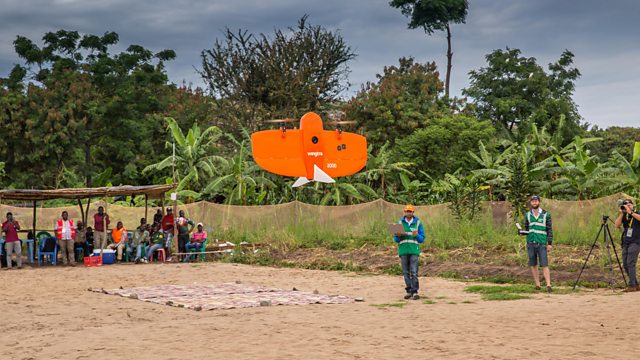 Africa's Drone Experiment
Is there a viable case for drone deliveries in East Africa?
While the idea of retail giants like Amazon dropping parcels from the sky via drone may be a long way off, in East Africa momentum is building over the idea of drone delivery in hard to reach places. In the island of Juma near Mwanza, one of hundreds of remote inhabited islands in the vast expanse of Lake Victoria, an ambitious new drone project called the Lake Victoria Challenge (backed by international organisations like The World Bank and the private sector) is taking place.
Technology reporter Jane Wakefield visits Juma to see first-hand how the concept could work. Are they a cost-effective solution for getting goods quickly to rural areas?
Jane interviews Zipline, currently the only commercial drone delivery company operating in Africa. A year on from announcing a deal with the Tanzanian government, Zipline is still nowhere near setting up in the country. Why? Do drones bring insurmountable regulatory and security issues, or are they going to be a lifeline for Africa's neglected rural communities?
Jane also speaks to Tanzanian drone pilot and entrepreneur Frederick Mbuya of Uhurulabs about why technology needs to work in an African context, and to The World Bank's Edward Anderson, who is running the Lake Victoria challenge project, about what drones could bring in terms of economic development opportunities.
(Photo: LVC drone in flight to Juma. Credit: Sala Lewis)