Main content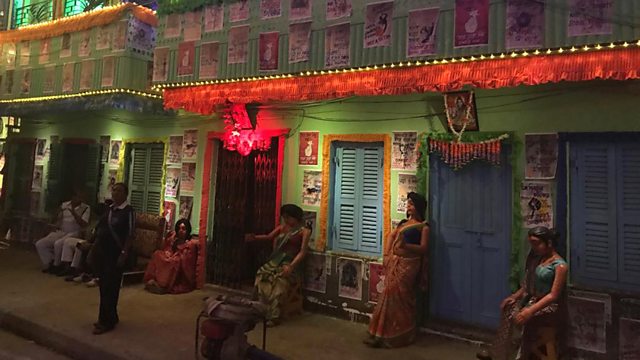 Durga Puja with Amit Chaudhuri
Calcutta takes to the streets in droves to celebrate the festival of Durga Puja.
Imagine being swept along the streets of Calcutta by a crowd of over three hundred thousand people all visiting fantastical temporary pandals which are built from clay, silt, wicker, and papier-mache by local artisans every year to celebrate the festival of Durga Puja.
Acclaimed writer and local resident Amit Chaudhuri, along with family members and friends, go pandal-hopping across the neighbourhoods of the city to tell the story of how the Hindu goddess Durga leaves her spiritual realm for five days every autumn and visits her mortal devotees to allow them to be seen by her.
This devotional reassurance takes place inside the pandals which all contain an effigy, a murti, of Durga and curiously, displays reflecting particular current issues, from the overtly political to the blatantly commercial. Each neighbourhood has spent the previous year raising funds for the structures and over the years, the building of the pandals and their murti has become increasingly competitive, with each district vying to outdo the others in an carnival-like celebration of spirituality that is as much about Disney as it is about deity.
The festival concludes when Durga returns to her spiritual home and the pandals no longer have purpose. They are dismantled and, followed by vast crowds, taken to the Ganges and immersed in the fast-flowing water where they dissolve and return as the silt which will be used to make new pandals for next year's Durga Puja.
Additional writing, editing and post production by John Wakefield.
Location recording by Shuva Chakraborti.
Producer: Roger James Elsgood
(Photo: The street and houses leading up to the brothel pandal with dummies of sex workers. Credit: Amit Chaudhuri)