Main content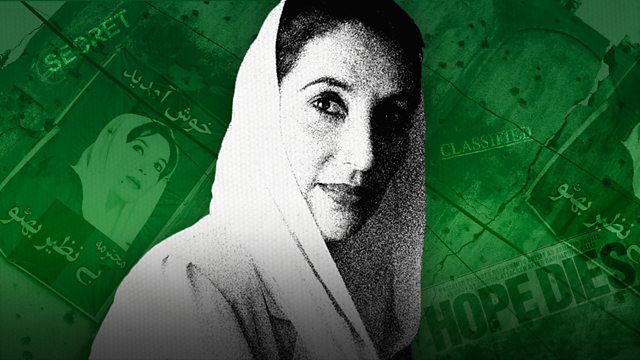 The Assassination - Part Two
The award-winning inside story: who killed Benazir Bhutto? A 10-year investigation.
It is one of the world's great unsolved murders. Ten years ago, Pakistan's most prominent politician, a woman people would form human chains to protect from assassins, died in a suicide blast. The intervening years have brought allegations, arrests and a UN inquiry – but not one murder conviction.
The victim was Benazir Bhutto. The Bhuttos are to Pakistan what the Kennedys are to the US: a powerful political dynasty, a family that inspire love and hate; a name that carries glamour and intrigue – Benazir was just the latest in a long line of Bhuttos to be murdered.
With exclusive inside access to the official investigation and a shelf load of leaked, secret documents, The Assassination looks at what happened and why; what we know and what we don't. The story spans the globe, from Pakistan to the US, to the Gulf and the UK, and hears from the victim, her family and the accused.
The series was first released as a podcast. It won gold at the 2018 British Podcast Awards. It made the iTunes charts in seven countries, reaching number one in the UK. Listeners have left hundreds of glowing online reviews: "brilliant" ... "fascinating" ... "gripping."
Through the mystery of this murder we reveal a little of how Pakistan works. The Assassination is a portrait of a woman and the country she would rule by a man who knows both as well as any British journalist, Owen Bennett Jones.
More episodes
Next
You are at the last episode