Main content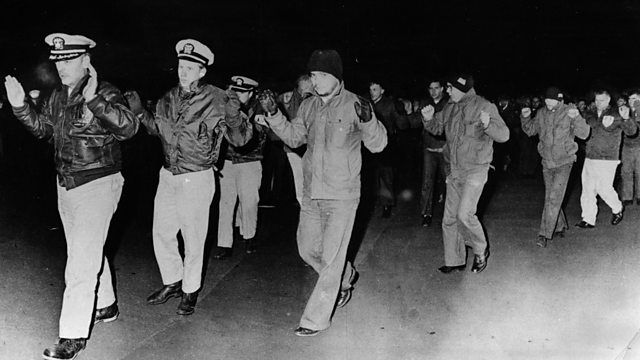 Spy Ship: The Capture of the USS Pueblo
The forgotten story of the capture of the American spy ship USS Pueblo and its crew; captured, tortured and held prisoner for 11 months by North Korean forces fifty years ago.
It was a brazen and violent attack by North Korean forces on an American ship sailing in international waters, leading to the death of one sailor and the imprisonment of the remaining 82 crewmen who were confined and tortured for 11 long months. Yet the capture of the spy ship the USS Pueblo, the only active-duty vessel of the US Navy still held captive by a foreign government, remains a largely forgotten chapter in American naval history.
As we approach the 50th anniversary of those 82 men's poignant, safe return to US soil on Christmas Eve 1968, Tim Whewell meets the surviving sailors and hears their compelling stories.
The survivors describe how the small, unguarded Pueblo faced overwhelming enemy firepower as they were captured and horrifying tales from the wounded about their treatment without anaesthetic during the 11 long months they were held prisoner.
The men recount the boredom of their daily routine broken only by regular brutal beatings by sadistic guards, being paraded for North Korean propaganda and surviving on starvation rations; yet despite these traumas they tell us about the acts of defiance that embarrassed their North Korean captors and possibly led to their release.
But after the sailors returned home to California that Christmas Eve to an initially rapturous reception, the US establishment, embarrassed by the capture of the ship, turned on the men – tarnishing their reputations for many years.
Fifty years on the crew of the USS Pueblo look back on the incident that changed their lives.
Reporter: Tim Whewell. Produced by Eamonn Walsh for BBC World Service.
(Photo: Crew of the USS Pubelo after capture, Credit: North Korean State/Getty Archive)