Main content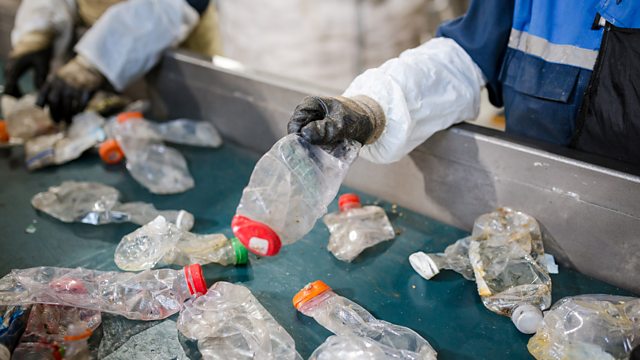 How Much Plastic Can We Recycle?
Professor Mark Miodownik explores our love/hate relationship with plastic.
Plastics are fantastically versatile materials that have changed our lives. It is what we do with them, when we no longer want them, that has resulted in the global plastic crisis. Mark Miodownik explores our love hate relationship with plastics.
Programme Two: Things begin to go stale
Plastic waste has been a global crisis waiting to happen. To date it's estimated that around 8.3 billion tonnes of waste plastic exists. That's 25 Empire State Buildings or 1 billion elephants. Incredibly around half of this has been generated in just the last 14 years, despite mass production having begun in the 1950s.
Events such as China's recent refusal to take any more "foreign rubbish" from the west and Sir David Attenborough's graphic portrayal of the devastation that plastic waste is causing in our oceans, has prompted political and media discussion like never before. We are at a critical moment where, if we're to turn the tide on plastic pollution, it will require science and society to come together to create real change. But it won't be easy. One major area that needs an overhaul is recycling. In the UK only 14% of plastic collected is recycled. Europe tends to burn our waste for energy, and plastic has a calorific value similar to that of coal. But proponents of the circular economy say we should never consider plastic as waste at all and we should think of it as 'Buried Sunshine' - a resource that needs conserving - by reusing and recycling again and again.
Picture: Production line for the processing of plastic waste in the factory, Credit: Getty Images
Last on
Broadcasts
BBC World Service

Online, Americas and the Caribbean, UK DAB/Freeview, Europe and the Middle East & News Internet only

BBC World Service

Australasia & East Asia only

BBC World Service

Online, UK DAB/Freeview, News Internet & Europe and the Middle East only

BBC World Service

Australasia, Americas and the Caribbean & South Asia only

BBC World Service

East and Southern Africa & East Asia only

BBC World Service

West and Central Africa

BBC World Service

Australasia

BBC World Service

East and Southern Africa, South Asia & West and Central Africa only
The Curious Cases of Rutherford and Fry