Main content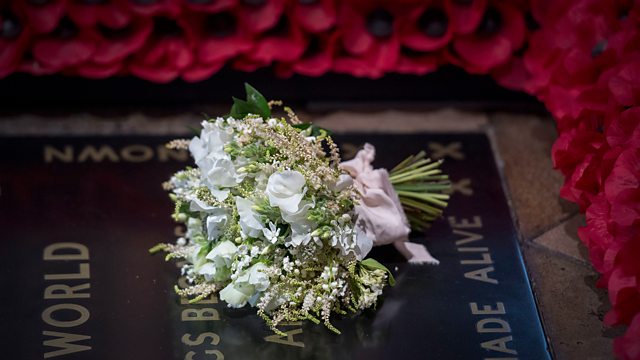 The Unknown Soldier
Moira Stuart tells the astonishing story of the Unknown Soldier.
Moira Stuart tells the astonishing story of the idea of the Unknown Soldier: a powerful prism for national grief, a brilliant interplay between anonymity and universal recognition, an icon which spread across the globe.
On the second anniversary of the armistice following the end of the Great War, the remains of a single Unknown Soldier were brought home from the battlefields of the Western Front. Given the scale of the carnage and the fact that so many of the fallen were simply unidentifiable, the idea to commemorate the dead through the remains of one anonymous soldier - that would represent them all - was more than just pragmatic. As an idea it had a symbolic, almost poetic, resonance.
And so the remains of the Unknown Soldier were interred with full honours in Westminster Abbey in London. The outpouring of grief brought the nation to a standstill. There were extraordinary scenes on the streets of London. Other Allied nations followed suit. Millions paid their respects.
But even from the beginning the concept of the Unknown Soldier was not without its critics. Some saw it as emblematic of the callousness of states and their governments in wartime - the Unknown could be read as figure of righteous anger, of the terrible, mass anonymity of countless young men lost without trace. And Moira uncovers a twist in the tale: that the future of the Unknown Soldier as a timeless, abstract memorial is open to doubt for the simple reason that thanks to DNA testing, human remains are no longer unidentifiable. There is even a move to use DNA science to re-identify the remains of existing Unknowns around the world.
In this moving feature marking the centenary of Armistice Day, Moira asks whether the Unknown Soldier is finally an icon of war or peace; of sorrow and mourning – or is he a warning to us still?
Producers: Simon Hollis and Jo Wheeler.
(Photo: The Duchess of Sussex's wedding bouquet is laid on the grave of the Unknown Warrior in the west nave of Westminster Abbey. Credit: Victoria Jones/Getty Images)
Last on
Broadcasts
BBC World Service

except News Internet

BBC World Service

Australasia

BBC World Service

East and Southern Africa & West and Central Africa only

BBC World Service

except East Asia, Europe and the Middle East & South Asia

BBC World Service

UK DAB/Freeview & Online only

BBC World Service

East and Southern Africa

BBC World Service

South Asia, Europe and the Middle East & East Asia only

BBC World Service

News Internet

BBC World Service

East and Southern Africa & West and Central Africa only

BBC World Service

except East and Southern Africa & West and Central Africa