Main content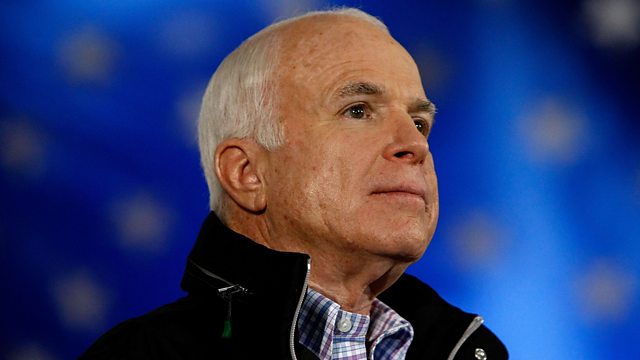 The Life and Times of Senator John McCain
Anthony Zurcher looks back at the life and career of US Senator John McCain, who died on Saturday, 25 August 2018, aged 81.
Few American politicians have carved such a distinctive career as the late John McCain, the Republican Senator for Arizona. Anthony Zurcher, the BBC's North America reporter, looks back at his life, including his military service, during which he endured five years as a prisoner of war in Vietnam, and his two unsuccessful bids for the American presidency. He also examines how McCain gained a reputation as a political maverick, and inflicted one of the most high-profile policy defeats of Donald Trump's presidency to date.
Featuring interviews with political journalist and author Elizabeth Drew, political adviser Mark McKinnon, and Brooke Buchanan, Sen. McCain's former press secretary and communications director.
Image: John McCain, pictured in October 2008 (Credit: Getty Images)