Main content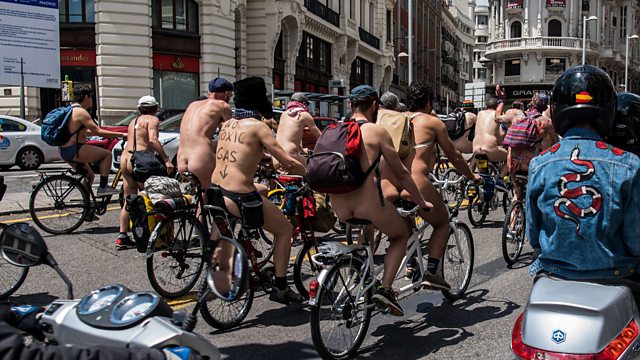 The Benefits of Nakedness
Can being naked in public be good for you? Dr. Keon West explores the good and bad of shedding your clothes.
Some people just love to be naked in public. Dr. Keon West travels far and wide to speak to those who enjoy taking their clothes off to find out why they do it, and what the benefits – and disadvantages – might be.
Dr. West is a social psychologist at Goldsmiths, University of London, and has done some research into naturist groups in the UK. His work showed that those of us who are naked in public are more likely to be happier not just with our bodies, but also with our lives more generally. Dr. West is also someone who has come to love being naked and he bears all with different naked groups in the UK, Germany, Senegal and India. He experiences nakedness on two wheels, at the World Naked Bike Ride in Brighton, England, enjoys the sun and sea at a secluded beach in Bengal, India, and plays cards with a naturist group in Berlin, Germany.
He is accompanied on his travels by his producer, Philippa Geering, who has a more prominent place in the programme than she anticipated. As someone who has never before practiced public nudity, it is a steep learning curve for her. She finds herself naked indoors and out, in city centres and off the beaten track, and on three different continents as she accompanies Dr. West on his journey. Will she be convinced of the benefits of nakedness?
Photo: Naked cyclists ride through Madrid, Spain, during the Naked Bike Ride 2018 Credit: Marcos del Mazo/LightRocket
Last on
BBC World Service
except News Internet
Broadcasts
BBC World Service

except News Internet

BBC World Service

except News Internet

BBC World Service

except News Internet

BBC World Service

Australasia

BBC World Service

except News Internet