Main content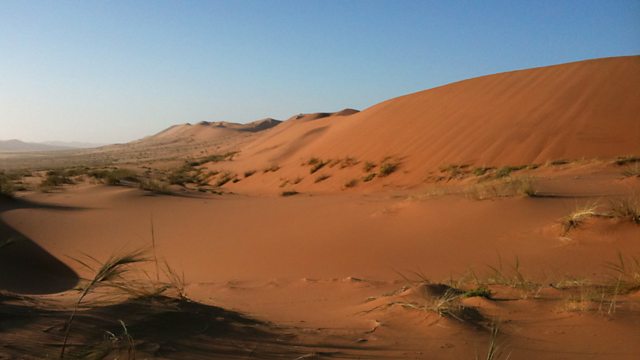 The sounds of the Namib Desert
Life in the Namib Desert from the solo notes of birds at dawn to the wind at night
Beginning with a few solo notes from a group of birds (including sparrow doves and finches) before the first light of day and ending with the sounds of the wind in the darkness of the night, wildlife sound recordist Chris Watson presents a journey in sound from dawn to dusk in the Namib Desert in southern Africa.
The Namib is dominated by two features; the sand and the wind. Both of these are constantly shifting and changing and so too are the sounds they produce. The wind is hugely significant to the local community, the San, for whom it is linked with ideas of the spirit and breath of life and with scents and smells. The wind is a carrier of messages. There are good winds and bad winds. The sounds carried on the wind are an aural guide to life in the landscape.
The wind of course carries other sounds with it, and as on the Plains (the first programme in this series), local people use sound to survive here; to identify the whereabouts of predators and prey.
What is also fascinating about the desert are the micro-sounds that you can hear, including sand grains being blown by the wind, ants scurrying inside an acacia tree, and the slither of a side-winder snake as it buries itself in the dune. Then there are louder sounds, like the Namaqua Sandgrouse which gather to drink and bathe, or the night chorus of barking geckos; small reptiles that live in individual burrows which they use to amplify their songs, which then ring out across the desert and into the night.
And all the time, there is the wind, the sand and the eerie shifting sounds of the dunes.
Broadcasts
BBC World Service

Americas and the Caribbean, UK DAB/Freeview, Online, Europe and the Middle East & West and Central Africa only

BBC World Service

Australasia, Americas and the Caribbean, South Asia & East Asia only
Featured in...
The World Service's best programmes about our sun and solar system