Main content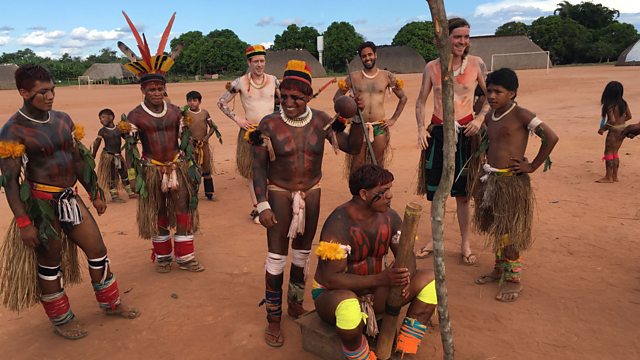 The Voices of the Amazon
The indigenous Kuikuro people in Brazil share a day in their lives.
Many anthropologists and researchers have visited the indigenous peoples of the Amazon to analyse their ways of life and culture. But what would these people want to say to us?
Tribal leader Takuma Kuikuro guides us through a day in the life of his village, from dawn to dusk. He shares his vision of the future for the Kuikuro people who live in the upper reaches of the Xingu River. As the day progresses we find that it is not just traditional rituals of body-painting and dancing and the daily tasks of fishing and cooking. Even in this remote corner of the Amazon region technology, including social media, has arrived and the youth are enthralled.
At dawn Takuma starts up newly introduced machinery which is reducing the workload of women preparing food. He scoots off on a motorbike, past a group of youngsters enjoying their morning game of football. He goes bathing and fishing as well as taking part in some of the important rituals that form part of daily life. But by the evening, a generator is humming and the young generation are either watching TV or on their phones checking Facebook.
Is all this technology a challenge to the village or will it enhance their lives? To outsiders who want them to preserve their heritage, they are quick to point out that none of them want to live in a museum.
Jerry Brotton introduces this programme which is made with the permission of AIKAX – the Association of Indigenous Peoples of the Upper Xingu.
(Photo: Kuikuro people of Brazil)
Last on
BBC World Service
Americas and the Caribbean
Broadcasts
BBC World Service

except News Internet

BBC World Service

except News Internet

BBC World Service

except News Internet

BBC World Service

South Asia, East Asia, Australasia, East and Southern Africa & West and Central Africa only

BBC World Service

Americas and the Caribbean