Main content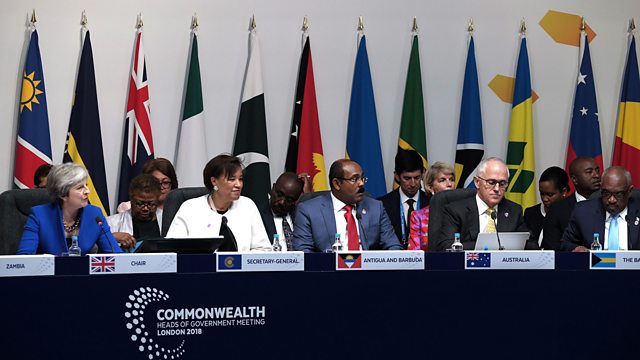 Imperial Echo
Jonny Dymond looks at the Commonwealth's origins in the British Empire, and its value in the modern world.
With the closing ceremonial of the 2018 London Commonwealth Heads of Government meeting barely over, BBC radio's Royal Correspondent Jonny Dymond excavates the Commonwealth of Nation's 19th century origins in the British Empire and its formal institution in 1949 as a post-colonial worldwide network of states 'free and equal' within the organisation.
Some have joked that the long shadow of its colonial origins has made it the 'after-care service of Empire'. And with Her Majesty the Queen as its Head, the Commonwealth in the 1980s and 1990s became a powerful tool in the pursuit of majority rule in Zimbabwe and South Africa. But since then it has struggled to clearly define itself for the closely interconnected 21st century.
Jonny Dymond samples the colour and the conversation of the London summit, visits the institution's palatial London home, Marlborough House, and talks to Secretary General Patricia Scotland about the Commonwealth's value in the modern world.
(Photo: Prime Minister Theresa May chairs a meeting of the Commonwealth Heads of Government (CHOGM) in London, 2018. Credit: Getty Images)
Broadcasts