Main content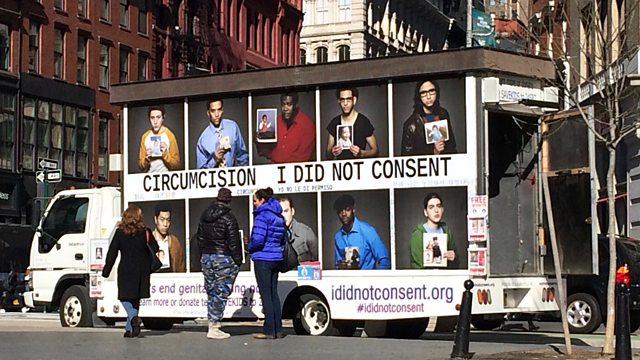 Why We Cut Men
Across the world, 1 in 3 men are circumcised. Mary-Ann Ochota investigates why we cut men.
Male circumcision is one of the oldest and most common surgical procedures in human history. Around the world, 1 in 3 men are cut. It's performed as a religious rite in Islam and Judaism; in other cultures it's part of initiation, a social norm or marker of identity. Some individuals think it's cleaner, sexier or safer. In this documentary, anthropologist Mary-Ann Ochota explores the reasons we cut men. She meets people who passionately promote the practice – and others who protest against it.
Across sub-Saharan Africa, medical circumcision is endorsed in the fight against HIV – research shows it reduces the risk of a man getting infected if he has sex with an HIV-positive woman. More than 10 million men and boys have been circumcised so far; officials plan to reach another 25 million by 2020.
In rural Uganda, Mary-Ann visits a mobile clinic to watch 21-year-old Wajuli undergo the operation. She meets another young man in Kampala who reveals his regret about getting cut.
The United States is the only western country where most boys are circumcised for non-religious reasons – $270 million a year is spent on infant circumcision. In downtown New York, Mary-Ann meets 'Intact-ivists' who believe male circumcision is genital mutilation. She speaks to members of the public confronted with the protest, and interviews a leading US paediatrician who reflects on the reasons US doctors keep cutting.
With contributions from Uganda's national VMMC coordinator Dr Barbara Nanteza, Dr Marc Cendron (Boston Children's Hospital) and Georganne Chapin, Intact America.
Picture: Intactivist van in Union Square, New York, Credit: Nick Minter
Last on
BBC World Service
West and Central Africa
Broadcasts
BBC World Service

Online, Americas and the Caribbean, UK DAB/Freeview & Europe and the Middle East only

BBC World Service

Australasia, South Asia & East Asia only

BBC World Service

except Australasia, East and Southern Africa, News Internet & West and Central Africa

BBC World Service

Australasia & East and Southern Africa only

BBC World Service

Australasia

BBC World Service

East and Southern Africa & West and Central Africa only

BBC World Service

West and Central Africa

BBC World Service

except News Internet & West and Central Africa

BBC World Service

West and Central Africa
The Curious Cases of Rutherford and Fry