Main content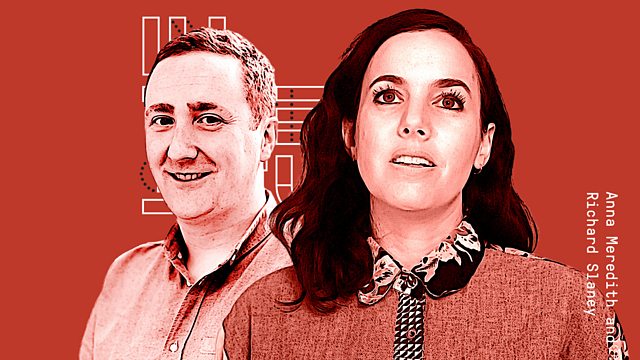 Anna Meredith and Richard Slaney
Emma Kingsley follows Anna Meredith and Richard Slaney as they create the first performance of Five Telegrams at the BBC Proms to mark the centenary of the First World War.
Scottish composer Anna Meredith has been writing music for a new commission to be premiered at the opening of the BBC Proms to mark the centenary of the First World War. Entitled "Five Telegrams", the piece is based on the theme of communication during the conflict. Anna's music will be complemented by large scale projections on the Royal Albert Hall in London created by Richard Slaney and his team at 59 Productions. A further performance will take place in Edinburgh in August.
Emma Kingsley follows Anna and Richard as they prepare for the first performance- a curtain raiser the evening before the official First Night of the Proms. There are numerous challenges in getting the music and the visuals to work together successfully and in time with each other. And with only short summer nights to test out the projections during the hours of darkness, practice time is short.
Presented and produced by Emma Kingsley for BBC World Service.
(Image of Anna Meredith by Anna Victoria Best)
The Projections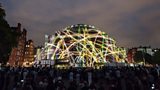 Thousands watch the projections on the outside of the Royal Albert Hall.
(Photo by Justin Sutcliffe. Five Telegrams commissioned by BBC Proms, Edinburgh International Festival and 14-18 NOW, with the Royal Albert Hall)
Broadcasts
BBC World Service

Online, Americas and the Caribbean, UK DAB/Freeview, West and Central Africa & Europe and the Middle East only