Main content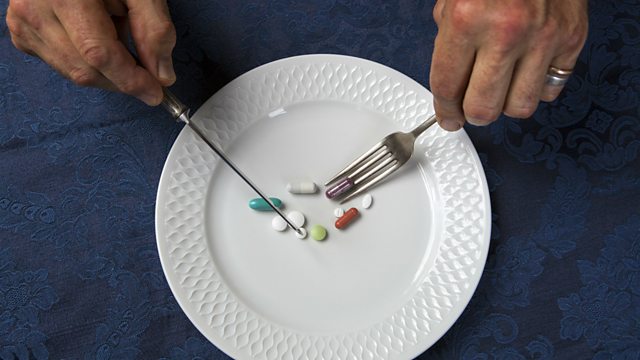 Is The Future of Food a Pill?
Marnie Chesterton explores the world of artificial foods, visits a hydroponic vertical farm built under London and stops off at restaurant serving unusual foods of the future.
Since the end of the 19th century, scientists have been predicting we would be eating a meal in a pill, but is it a serious answer to the world's food problems? That's what Australian listener Bridget is wondering and whether it's possible to produce an artificial food source that can provide all the nutrients for healthy human life.
With increasing urbanisation, diets are changing and estimates suggest food production will have to increase some 60 percent by 2050 to keep up with demand. But can we provide all that extra food with limited natural resources and traditional farming methods?
First, Marnie Chesterton finds out what artificial food is currently available and whether the existing products are healthy. And while a meal in a pill might sustain our bodies, will it sustain our minds? The experience of eating involves so much more than simply taking in the right nutrients, as Marnie discovers at the Gastrophysics Chef's Table, a restaurant and multi-sensory dining experience. On the menu is jellyfish, a possible alternative source of food for the future. It's in plentiful supply in our oceans, but like eating insects, the thought of it may be disgusting to some, so Marnie explores how sensory-driven strategies can be used to make these food sources more appealing.
CrowdScience also visits the future of farming: A hydroponic vertical farm called Growing Underground, which is built in World War Two air-raid shelters under London. Using LED lighting instead of sunlight, leafy vegetables grow very quickly and need very little space. With higher crop yields per square metre than traditional farming, vertical farms allow fresh produce to be grown in urban centres with less impact on the environment.
Hydroponic farming is something the European Space Agency is also experimenting with as part of Project Melissa, which is developing a closed loop ecological system - using rats instead of astronauts - aimed at one day helping us grow fruit and vegetables on Mars. Listen to the podcast version of the programme to hear this interview.
Producer: Helena Selby
(Photo: Pills on a plate. Credit: Getty Images)
Last on
BBC World Service
Australasia
Broadcasts
BBC World Service

except News Internet

BBC World Service

except Americas and the Caribbean & News Internet

BBC World Service

except Australasia, East and Southern Africa, News Internet & West and Central Africa

BBC World Service

Australasia & East and Southern Africa only

BBC World Service

West and Central Africa

BBC World Service

Australasia